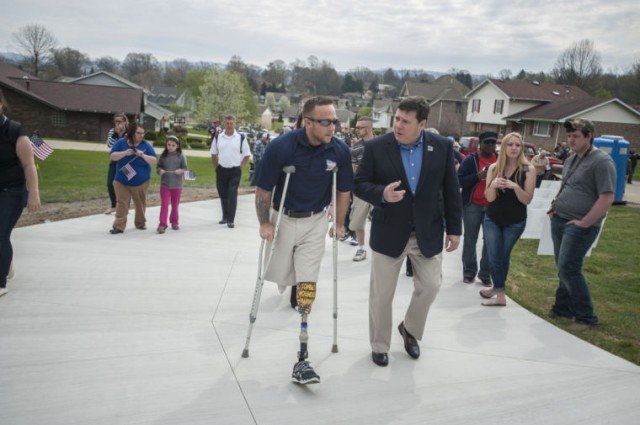 You may have heard the name Brandon Rumbaugh before.  If you haven't, he's in the news again.  As a double amputee veteran, Brandon spent the last month living outside in an effort to bring awareness to homeless veterans.  His quest ended over the holiday weekend.   Marine Cpl. Brandon Rumbaugh of Uniontown started his mission on Nov. 1 and previously said he would end it on Nov. 29, which is the fifth anniversary of the day he was injured in Afghanistan.
Rumbaugh celebrated the end of his journey by hosting a spaghetti dinner Saturday night at the Uniontown Fraternal Order of Eagles. All proceeds from the dinner will go toward homeless veterans.  Rumbaugh previously said that 20 percent of the homeless are veterans, a number that is unacceptable. The veteran brought with him only a change of clothes, some blankets and a small bag containing a few supplies for his month long outdoor endeavor.
For more on Rumbaugh, here's his story which is posted on the HFOTUSA website:
Marine Corporal Brandon Rumbaugh was on his second deployment when he lost both of his legs in an IED blast in Helmand Province, Afghanistan on November 29, 2010. Just returned to an outpost from a combat patrol with the 1st Battalion, 8th Marines, Cpl Rumbaugh was responding to the scene of an IED blast involving one of his good friends just outside the compound.
Carrying a stretcher, and rushing with his team to aid the injured Marine, Brandon stepped on a second IED resulting in the traumatic amputations of his right leg at the hip and his left leg below the knee. Medically evacuated by helicopter, Cpl Rumbaugh was treated at Camp Bastion before being airlifted to Landstuhl, Germany.  Next he was transferred to Walter Reed Army Medical Center in Washington, DC  in Bethesda, Maryland, spending a total of 18 months receiving treatments and therapies.
Cpl Rumbaugh is currently pursuing a college education to obtain his business degree at Penn State. He hopes to one day own his own business. Brandon enjoys weightlifting, baseball, basketball, and shooting. He would like to compete the weightlifting division in the Paralympic Games in the future.
Since moving into his home in April 2014, he's been supporting other Veterans through difficult times by working for a nonprofit called, It's About the Warrior Foundation (IATW). The organization helps assist and empower post 9/11 Veterans in his area with financial, educational, recreational and therapeutic needs. Brandon serves as its Board Advisor and motivational speaker. He also shares his personal story with audiences ranging from corporate executives to college hockey teams and elementary school students.