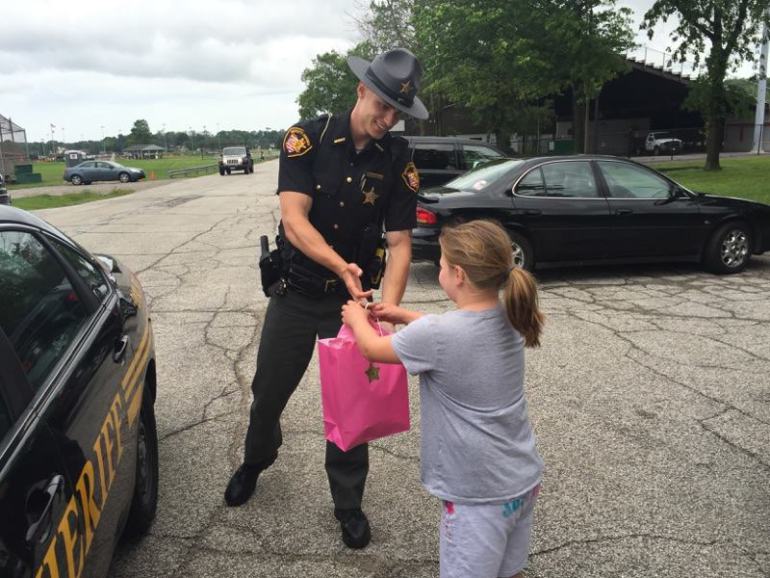 At one point in our lives, we've all seen young kids setting up a lemonade stand to make a little bit of extra cash. It's typically a way for them to have some type of independence and earn money through their "first job" of sorts. However, a lemonade stand was a little more important for a young girl named Gabrielle in Lake County, Ohio, and Deputy Zach Ropos recognized that.
When Deputy Ropos stopped by Gabrielle's lemonade stand on Monday, he asked the girl what she was going to do with the money she made, and she told him that she was going to use it to buy an iPad so she could play games on it and go on the Internet for schoolwork. Gabrielle explained that her family was going through a difficult time financially right now, and that she needed to work hard selling lemonade in order to earn the money.
After hearing her story, Deputy Ropos was inspired to do something. Originally, he was going to give Gabrielle an older model of an iPad that he already had; however, when he discovered that it didn't work, he went and bought her a brand new iPad that she could enkoy. What makes the gift even better: as Gabrielle's mom told Deputy Ropos when arrived with the new iPad, it turns out that just before he came Gabrielle had offered to give all of her lemonade money to her mom to buy gas for the car.
I think we can all agree that Gabrielle more deserved that iPad.
Here's the message that Chief Deputy Frank Leonbruno posted on the Lake County's Sheriff Office Facebook page regarding the story:
Yesterday Deputy Zach Ropos was on patrol yesterday and stopped by a little girl's lemonade stand to make a purchase. He asked the little girl named Gabrielle what she was going to do with all her money. She explained that she wanted to buy an IPad so she could play games on it and go on the Internet for school. She knew her family was having a very difficult time financially and she knew that she would have to work hard this summer selling lemonade to get enough to buy one on her own.
Deputy Ropos went home after shift to find an I-Pad he had that was an older model. He wanted to give it to her. When he found out it didn't work he went out last night and bought her a new one on his own. Today Deputy Ropos presented Gabrielle with her very own computer tablet. The gift became even more valuable when Gabrielle's mother told him that just before he arrived Gabrielle offered to give all of her lemonade money to her mom to buy gas for the car!

I am sure he will be embarrassed to hear this highlighted and that it was never his intention to get recognized. But great job Deputy Ropos on making this little girl's day! You really make a difference. And all of the best to Gabrielle and her new I-Pad.
[Photo via Facebook]