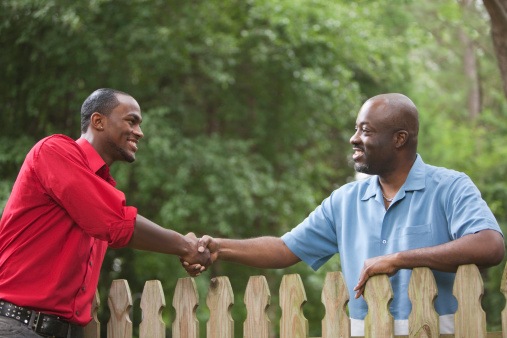 Moving is considered one of the top three most stressful experiences a person can have (the other two are divorce and death, so most would take moving over these any day, but still).  Packing everything, making all the arrangements, the expenses, moving day, and unpacking can seem an insurmountable task and strike fear in the hearts of even the most calm, cool, collected people. But what if, waiting for you at your new home, was a neighbor who, without even knowing you, was already looking out for your best interests and offering to help with all the small stuff?
A new photograph has gone viral, one of a letter that someone received from their new neighbor "Chris" after moving into a new home. Chris may just be the kindest, most thoughtful neighbor of all time. Everyone should be so lucky to have a neighbor like him!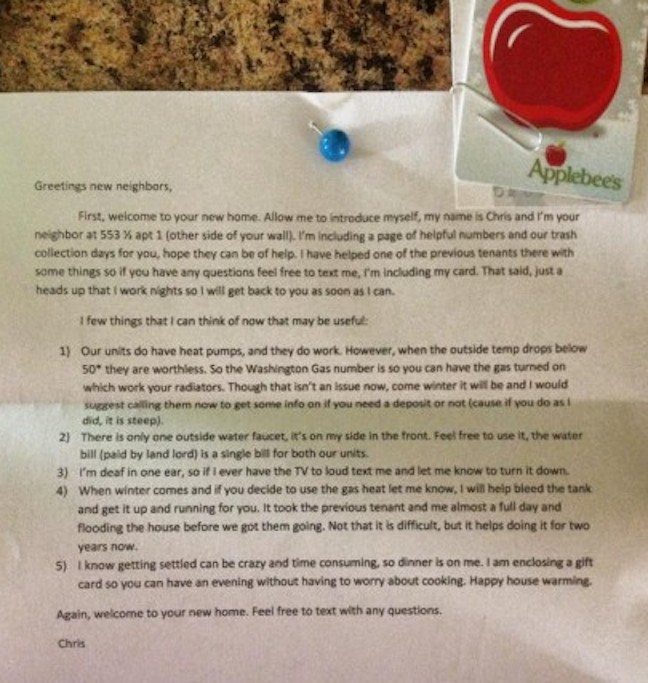 (Photo Credit – IJ review)
Here are a few of the note's highlights.
Chris tells the new neighbor to contact him if he ever has any questions about anything.
Useful tips about gas and heat and contact info for the gas company.
Details about the outdoor water pump.
An explanation about how Chris is deaf in one ear and a request that the new neighbor please text him in case his television is too loud.
An offer to help "bleed the [gas] tank" and get it "up and running" when winter comes and a description of how he helped a past neighbor do this for an entire day. This guy has a heart of gold!
Perhaps the sweetest thing ever: A gift certificate to Applebee's because Chris knows "getting settled can be crazy and time consuming," so he wanted his new neighbor to "have an evening out without having to worry about cooking."
"Happy house warming," indeed! We could all stand to learn a few things from Chris. What a guy.
(Lead Image Photo Credit by Getty Images)