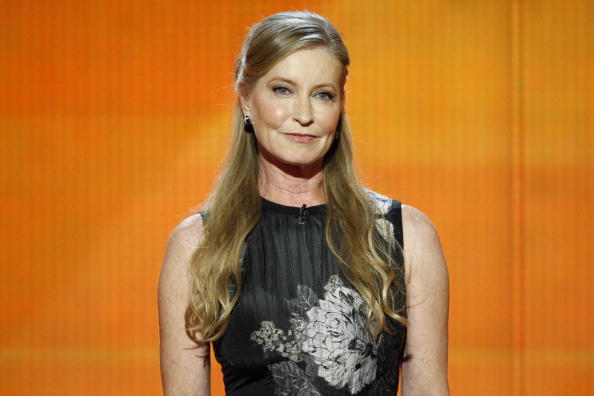 The world was truly devastated when acting and dancing legend Patrick Swayze passed away at age 57 from pancreatic cancer in September 2009. Fans were so sad to have their fantasy heartthrob Johnny Castle leave this world and everyone felt terribly for Swayze's widow, Lisa Niemi. The pair had been married for 34 years prior to his passing and together they proved that some Hollywood marriages can truly last.
Happily, Niemi has found true love again! She has wed jeweler Albert DePrisco. The two married in front of around 50 guests at the Mar-a-Largo Club in Palm Beach, FL, on Sunday, May 25. The bride wore a custom-designed Oscar de la Renta gown. On their special day, the newlyweds were serenaded by a string quartet led by her nephew Will and his wife Heidi, both concert violinists.
Niemi, 57, and DePrisco, 58, met through mutual friends and dated for more than a year before getting engaged in December, 2013. The Boston-based jeweler surprised Niemi with a proposal on Christmas Eve.
After losing her beloved first husband, Niemi expressed her experiences falling in love again in an April 2014 blog post.
"They say that falling in love is wonderful," Niemi wrote on her website. "That sick feeling. The butterfly stomach, the rubbery legs, the diminished mental capacity, a feeling of being paralyzed, like some kind of speared fish, floating helplessly after a powerful sedative."
In the same post, Niemi revealed how she felt after briefly splitting from DePrisco due to the strains of carrying on a  long-distance relationship during 2013. "I spent the next two mornings sobbing inconsolably for hours in private," she wrote. "My behavior was so crazy. But it had only been a few years since my husband had died, it was later that I realized that the separation had triggered all my fears, my emotions, the pain of, once again, having someone taken away from me."
"But I have to say, as devastating as the loss of my husband has been, would I go back and start all over again with him, even knowing the tragedy that lay ahead?" Niemi mused. "Yes. I would," she said. "A thousand times over."
"Instead of walking away, or trying to find a way to be safe in a situation that threatens to annihilate me," she concluded, "Embrace ALL of it. Without holding back, without looking for a quick-exit rope."
People always say you can't control when you fall in love, or that it happens when you least expect it or are not looking for it. Personally, I have experienced this and you definitely do have to embrace it, because letting a great person go because of timing can be a mistake you will always regret.
It is so wonderful that Niemi is getting this second chance at being in a happy marriage. Best of luck to them!
(Photo by CRAIG SJODIN/ABC via Getty Images)