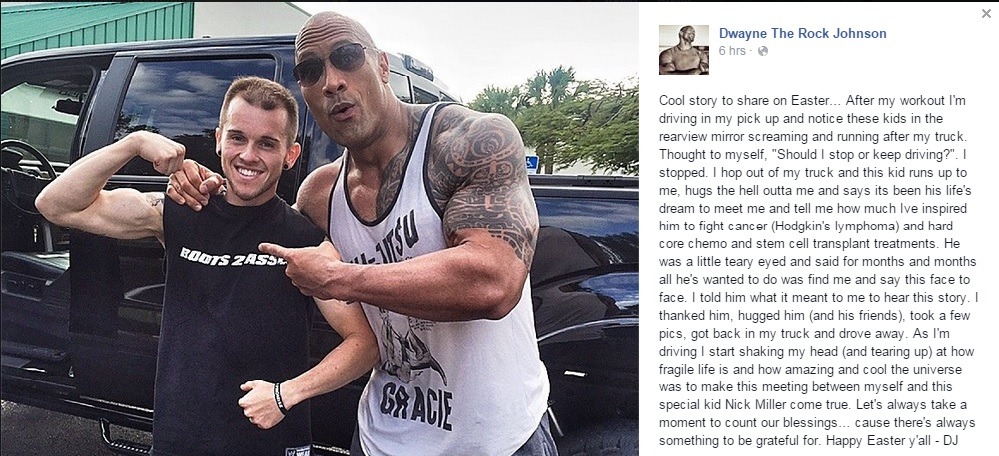 Dwayne "The Rock" Johnson is a pretty cool guy, and he really proved that on Easter. After leaving the gym he noticed a group of young men following behind his truck screaming and calling his name. The Rock debated whether or not to stop, ultimately making the decision to get out of his truck and see what was going on. When he emerged from his truck he was met with the embrace of a young man by the name of Nick. A little breathless and filled with excitement, the young man explained to Johnson that his life's dream was to meet him. He wanted to share with The Rock that he was this young man's inspiration to fight after he was diagnosed with a rare form of cancer and had to undergo many treatments, including chemotherapy, to overcome his battle with the deadly disease. The Rock posted to his Facebook page an account of the meeting and how he was so touched to have been given the opportunity to meet this young man because of what it reminded him about the fragility of life. And I think that we can all learn a little something from The Rock and his Easter this year.
Life is, in fact, quite fragile. It's too short to do anything other than choose happiness and success. It's too short to worry about things that don't matter, and it's too short to forget how important the little things are. Sure, someone will always have it worse than you, but that does not diminish your feelings. And yes, someone will always be happier than you, but that does not make your happiness any less significant.
What's important is that we can choose to feel differently. This young man chose to look up to someone as inspiration to fight a battle most of us will never understand rather than to sit back and let it beat him. He chose to be a fighter and he chose to share his story with the man who helped him – unknowingly – overcome some of the worst days of his life.
Photo by Facebook