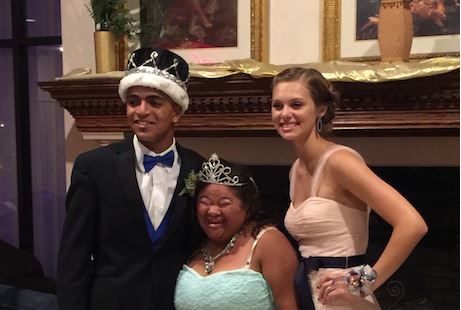 Senior prom night is a major moment in any high school student's life, especially if you're honored as prom king or prom queen. However, for Allison Della Penna, who was named Batavia High School's 2015 Prom Queen this past Saturday, the title didn't matter as much to her as celebrating a special classmate. As first reported by The Batavian, as soon as she went up on stage after being announced as Prom Queen, Della Penna announced that Shontee Allis, a senior at Batavia who has Down Syndrome, should take her place.
"I knew it would make her so happy and it doesn't really mean anything to me," Della Penna said. "I mean it's nice that people wanted to vote for me but it's something that she is going to remember for the rest of her life."
However, what makes Della Penna's decision to share the crown with Allis even better is her motivation for doing so.
"She is always so happy and that is something that I really liked," Della Penna said of her friend and classmate. "She always wants to make sure everyone is happy and smiling. Everyone should have just a tiny bit of her happiness."
The two became friends on their school's senior trip last week. Della Penna loved how funny and friendly Allis was; as The Batavian states, the girls just "really clicked."
For Allis, getting on stage and wearing the crown was a dream come true. She couldn't stop smiling.
"I was excited," Allis said. "It's good to be queen."
After Allis was named Prom Queen, she and Prom King Jarrett Laskett danced to her favorite song from Frozen, "Let It Go." (Great choice of song there, Shontee! I'm still not over how amazing Frozen was.) According to Allis's younger sister, Summer Mims-Allis, the she the crown all the time, no matter where she goes.
Fortunately, Della Penna's actions represent how the entire senior class of Batavian High School feels about and treats Allis, according to her mother Nancy Brandon.
"The senior class has literally took Shontee underneath their arms and just made her feel so special," Brandon tells The Batavian.
Check out the full photo of Della Penna, Allis, and Laskett below, along with the picture of Della Penna giving her friend the crown.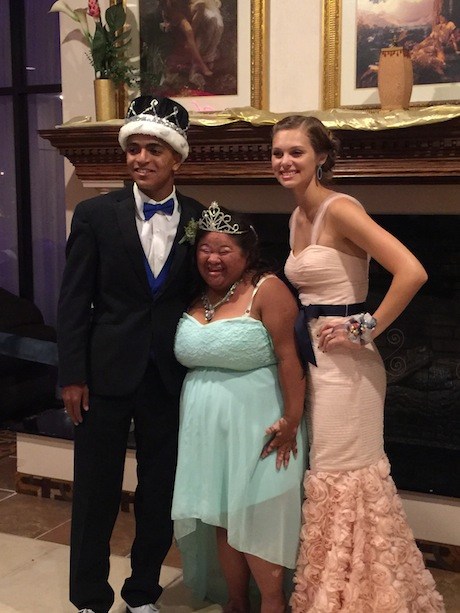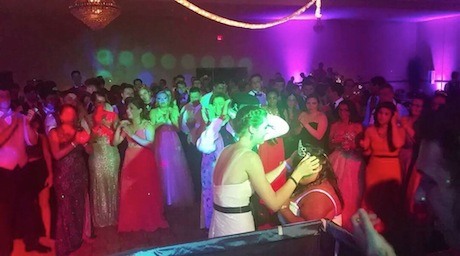 [Photo credit: Laura Tenebruso]