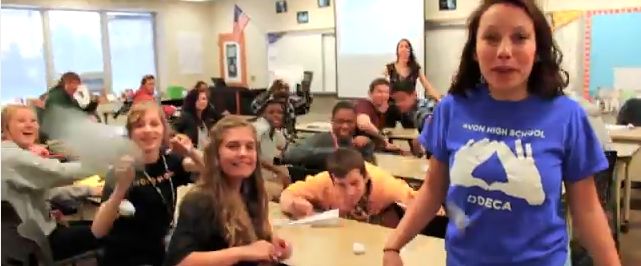 A video featuring Avon High School students is going viral on YouTube and we'd like it to get even more hits! The six minute video was posted late last week and features the entire school lip syncing to a pop "danthology" of 68 songs. As of right now the video is sitting at around 70K views. In this video we see the camera starts off in the school cafeteria where the principal, Matthew Shockley, gets things going.
It looks as though all 2,700 students have gathered to celebrate on their feet. From the cheerleaders to the orchestra, to the band, everyone's involved. So what's the video for exactly?
Avon High School had this to say on Riley's website.
By uniting the school through activities like the Lip Dub, we hope to further our efforts to raise money for Riley Hospital for Children. We would love it if you donated to our Riley Dance Marathon fund. Any amount can help save a child's life. Thank you so much!
So please give it your all and think of donating. But first you've gotta see this video. It's amazing!