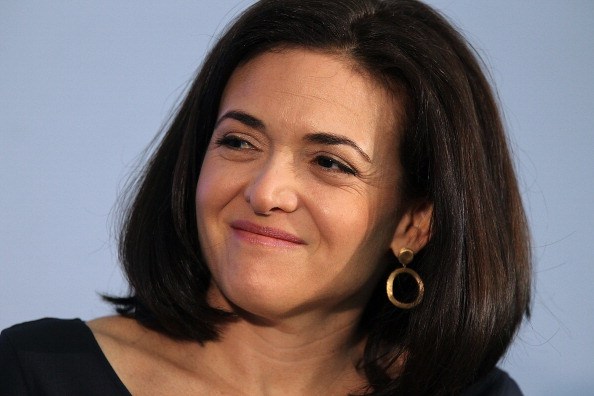 According to Time Magazine, she's one of the 100 most influential people in the world and she's reportedly worth more than $1 billion. Sheryl Sandberg might be only 45-years-old, but she's one of the most impressive women in the world, holding the title of COO of Facebook. Her contribution to society, the example she sets for men, women and children alike is astounding, and her success speaks for itself. She's a role model all people should look up to, and she's someone who always seems to know just what to say. Earlier this month while vacationing as a family in Mexico, Sandberg's husband of 11 years died unexpectedly from a head wound he incurred while exercising. With two small children, she's going through something right now no one should ever have to go through. But even in her darkest hour, she's teaching us life lessons that only someone with true character and compassion, spirit and soul, intelligence and understanding can teach. Her statement following the death of her husband this month says it all:
"I want to thank all of our friends and family for the outpouring of love over the past few days. It has been extraordinary – and each story you have shared will help keep Dave alive in our hearts and memories.
I met Dave nearly 20 years ago when I first moved to LA. He became my best friend. He showed me the internet for the first time, planned fun outings, took me to temple for the Jewish holidays, introduced me to much cooler music than I had ever heard.
We had 11 truly joyful years of the deepest love, happiest marriage, and truest partnership that I could imagine… He gave me the experience of being deeply understood, truly supported and completely and utterly loved – and I will carry that with me always. Most importantly, he gave me the two most amazing children in the world.
Dave was my rock. When I got upset, he stayed calm. When I was worried, he said it would be ok. When I wasn't sure what to do, he figured it out. He was completely dedicated to his children in every way – and their strength these past few days is the best sign I could have that Dave is still here with us in spirit.
Dave and I did not get nearly enough time together. But as heartbroken as I am today, I am equally grateful. Even in these last few days of completely unexpected hell – the darkest and saddest moments of my life – I know how lucky I have been. If the day I walked down that aisle with Dave someone had told me that this would happen – that he would be taken from us all in just 11 years – I would still have walked down that aisle. Because 11 years of being Dave Goldberg's wife, and 10 years of being a parent with him is perhaps more luck and more happiness than I could have ever imagined. I am grateful for every minute we had.
As we put the love of my life to rest today, we buried only his body. His spirit, his soul, his amazing ability to give is still with us. It lives on in the stories people are sharing of how he touched their lives, in the love that is visible in the eyes of our family and friends, in the spirit and resilience of our children. Things will never be the same – but the world is better for the years my beloved husband lived" she posted to Facebook just four days after her husband passed.
Her strength and her raw honesty, her passion and her drive, and her calm nature are lessons in and of themselves, and they're just a few of the things that Sheryl Sandberg has to teach us about life. Read on to find out what else she's got to teach.
Women Can Do Anything
If she's got one life lesson to teach us, it's that women can do anything. She's worked in Washington DC, for Google and for Facebook, and she's someone who has never even considered doing anything with her life except for being the boss and making the decisions.
It's Never Too Late to Learn
When she met her husband more than 20 years ago, she'd never even used the internet. He taught her how to do it, and now she is one of the most important people in the internet. How's that for it never being too late to learn?
Best Friends are Important
If you have a best friend, you're winning at life. If you are married to your best friend, you are really winning at life. Having someone in your life whom you trust completely is necessary, and it's okay to admit that you need others.
Negotiate for Your Worth
Even as a woman who is all about womens' rights, she admits that when she was offered her job at Facebook, she had to have her husband push her to negotiate for a better salary and benefits. It worked. She got the job and everything else she wanted, proving that negotiation is well worth it.
Put Yourself First
Sometimes you have to put yourself first and be there for you before anyone else. The moment that you forget who you are is the moment you stop taking control of your life. When she was offered the job of running LinkedIn, she turned it down because she wanted another baby. She was thinking of herself, and it all worked out for her.
Not all Opportunities are for You
Like the job at LinkedIn, not all great opportunities are the right ones for you. You sometimes have to turn them down with a polite thanks but no thanks. The wrong opportunity is not going to make you happy, and sometimes you have to stay where you are to get ahead the way you want.
Compromise is Good
When she and her husband were married, they worked in separate cities five hours apart. Neither wanted to leave their job, but they had to compromise so that they could keep their family together so that they could make the best for their kids and their own lives. That happened to mean her husband found another job in the Bay Area so that they could be together.
Constructive Criticism is Necessary
When she was little, she was the boss of her siblings, and she would make them agree with everything she said and did, but Sandberg admits that was wrong. She should have accepted their criticism, learned from it and become a better person for it.
Be Independent
One of the things in life Sandberg is more uncomfortable with is being a mentor. She doesn't like it. To her, it feels as if someone is asking her to take charge of them, to take care of them and to make things happen for them. She believes that is dependent, and she does not care for it in the least.
Being a Woman is Powerful
Women are powerful. You can do anything. You can run a business, have a baby, run a household and do the laundry and dishes without blinking an eye or becoming flustered. It's how we are wired, and she is living proof that women are powerful.
Photo by Justin Sullivan/Getty Images