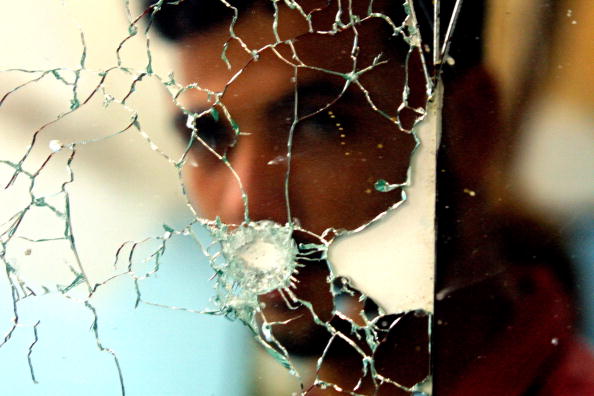 Junk; the word alone is enough to make a grown woman shudder. Of course, it's also the word that makes so many people happy (you've heard of the show "Hoarders," I presume?). The concept of junk in my house is absolutely off-limits. Stuff, junk, collectibles, whatever you want to call it, it has no place in my house. I am anti-stuff and stuff is anything that has to be stored in a box that is not used for holiday décor, anything that has not been used in more than one year and absolutely everything that does not serve a purpose (I don't even keep my kids' report cards – scanned and saved online thank you very much). Some people, however, love their stuff (my dad). But some of their stuff is not stuff; it's junk. It's broken and useless and has absolutely no purpose in the world. Fortunately for you – stuff people of the world – we have a few ways you can revive your old junk and make it something useful. At least that we can get on board with.
Broken Mirrors
Glue it back together so that you can see the cracks and lines and put it in a frame. There you go; you now have broken mirror art that looks deliberate and actually a bit chicer than you might think. We actually love this idea. Sorry about that 7 years of bad luck, though.
Men's Shirt Pillow Case Covers
Have some old men's shirts and a sewing machine? Find a pattern online and get to work making pillow covers you can use throughout the year. This is great for those old sports shirts during the sport seasons your family loves so much.
Trophy Wine Bottle Toppers
Glue some trophies you just cannot stand anymore to the top of a wine bottle stopper and use them as décor. It's actually a cute idea if you're into the nostalgic or you have a man cave that needs a little bit of personalization.
Broken Jewelry Magnets
How about taking all the broken jewelry and making some magnets out of it you can stick on the fridge? We love this idea since you can use them to make pretty magnets and not those ridiculous ones you know you love to buy when you head to the airport at some random stop.
Sweater Sleeve Bag Holder
We all keep grocery bags in the pantry for random things like wet clothes that have to come home from the beach or whatnot. So why not take an old sweater sleeve, do some sewing and make it something a bit more fabulous, like a bag holder that's more organized and lovely?
Photo by Abid Katib/Getty Images