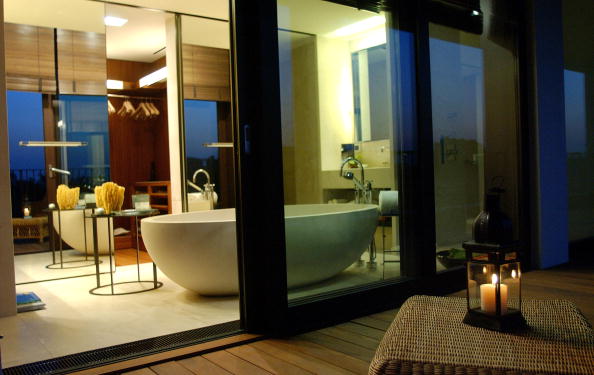 A complete remodel is not necessary if you want to take your bathrooms from drab to fab in 2015. You can do just that without breaking the bank, spending too much money and creating a look that's so trendy you can't sell your house in a few years. We have some suggestions for you that will give your bathroom a bit of fancy appeal without changing the look to something so personal it can't be neutralized into something that will provide you with money back should you decide to sell in the future. And since bathrooms are one of the most important rooms in the house, it only makes sense that you would spend a little bit of time in there trying to make sure your fancy upgrades are just what the doctor ordered.
Fancy Faucets
It's time to go for the total wow factor. Shower heads attached from the ceiling that work like rain, sink faucets you tap with your hands to turn on and off; these are the fancy faucets you need in your home to make it that much more appealing and stylish.
Chandeliers
These are not just for the dining room anymore. These are for every room. Put a pretty chandelier in your bathroom and watch as the entire room is transformed into something spa-like and fabulous through  and through.
Standalone Baths
A bath that stands alone is very appealing. It's also a lot more sanitary than a tub up against a wall that's covered in grout and caulk that gets moldy and gross when it's wet. It's chic and stylish, so we recommend you go this route.
Fancy Backsplash
The kitchen is not the only place you should get a fancy backsplash. You must hire a bathroom remodeling contractor to install one in your bath if you want to make the room look as gorgeous as possible. Something understated and chic should fit the bill.
Framed Mirrors
Fancy mirrors are framed, and this is something you can do on your own. You can get crown molding and make your own fancy mirror for just a few dollars out of the mirror you already have in your bathroom.
Photo by Giuseppe Cacace/Getty Images