With the abundance of guides and articles published telling us we should replace our appliances to save money and reduce our energy usage, is anyone telling us the value of the savings? No, many environmental sites just bully you into believing that you are a bad citizen of earth if you aren't going green.  With the Refrigerator Retirement Savings Calculator that Energy Star has released, you can now calculate whether it makes sense to replace your primary refrigerator or retire the freezer unit in the garage once and for all.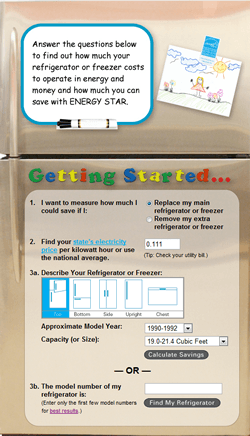 When looking at the replacement numbers calculated, be sure to take into account how long it would take for you to recoup the cost of the new unit with your power savings. For our household, it doesn't make sense to replace our current unit because the cost savings of $36 per year would take us 20-30 years to recoup the cost of a new one.
If however you do determine that you would be best served buying a new unit, here are a few tips for getting a good deal.
Buy Floor Models – Home improvement stores often sell off their floor models or last years models at significantly reduced prices. They may also offer scratch and dent items at a 10-15% discount. Don't be afraid to ask a store associate if these items are available.
Shop Warehouse Sales – At least once per year you can find an advertised warehouse sale from stores such as Sears. These are opportunities for the store to clear out remaining warehouse inventory and for you to get a great deal.
Comparison shop – At PriceGrabber.com you can view appliances, compare models and search multiple retailers pricing all in one place. One model we searched ranged in price from $2646.96 to $3399.00 – That's a big difference and well worth the research.
Rebates – As an encouragement for people to purchase energy efficient products, many retailers and utility companies offer rebates, utility bill credits and tax incentives. You can search for those available in your area here.
Thanks to Happy Housewife for the tip on the calculator.