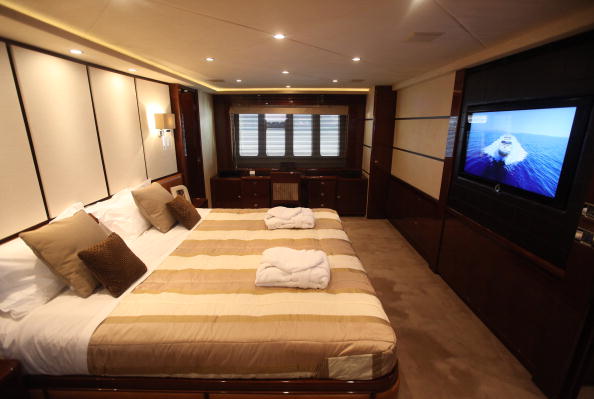 We've all seen the gorgeous master bedrooms in the magazines, and we all wish we could make ours look like that. Believe it or not, it's actually pretty simple to take an average master bedroom and turn it into something that looks as though it does belong the pages of magazine. All you need is a little eye for design and a bit of insider knowledge. It does not require a million dollar budget to create a dream master that looks absolutely picture perfect (I mean, it doesn't hurt, of course). All it takes is just a few tips, tricks and hacks that will enable you to create the master of your dreams. This is the room in which you are most intimate. It's the room in which you sleep every night. It's the room in which your life's most relaxing and enjoyable moments occur, so you should make it as picture-perfect as possible without worrying that you aren't comfortable in here. Let's us show you how to do just that.
Bold Bedding
One of the easiest ways to make a bedroom look luxe is to ramp up your bedding game. We're sorry, but those old, threadbare sheets and that duvet you brought with you to and from college has to go. We love something bold and beautiful, or just solid white. Splurge on these items since you do sleep on them and it is worth every penny.
Ambient Lighting
If you have harsh lighting, get rid of it. You probably have a ceiling fan since that makes sleeping more comfortable, but you should also get some seriously gorgeous lamps to place on your bedside tables. These are inexpensive but can change the entire look of a room in no time at all. If you change your home's lighting, it's a big difference.
A Luxe Rug
You've seen master bedrooms with rugs, and admit it; they're just that much more attractive than rooms without. A plush rug is really going to make a huge difference in the way that your room looks, even though it's not going to cost you much at all.
Remove the Clutter
We know it's not really a décor trick, but it is absolutely imperative that you get rid of the clutter your room is decked out in. Your personal items are so important, but you should pick one or two really great photos and items and stick with those and remove everything else.
New Knobs
Even brand new, gorgeous bedroom furniture can use a bit of improvement, and we think that this means new knobs and hardware. Trust us when we say that this makes so much more of a difference than you could ever imagine.
Photo by Oli Scarff/Getty Images