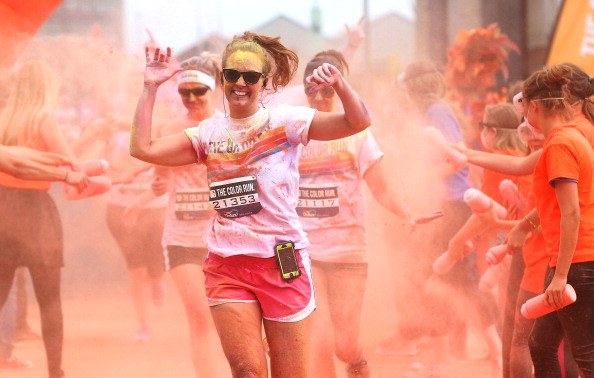 Working out, as you already know, is a vital part of life. We don't care how you work out as long as you are working out. It's a great way to relieve stress, lessen anxiety, improve your health, lengthen your life, make your mood better, make you happier and make you look and feel amazing. What does working out not provide? We have no idea; it just provides a bunch of good, happy, beautiful feelings. We don't care if you work out like a madman in the gym, if you walk 20 miles a day, jog, ride your bike, dance to zumba or practice yoga. We don't even care if you work out by playing sports with your kids. Just do it. If you need a little motivation, let music be your guide. It's so much easier to pump yourself up, make yourself feel motivated and do what needs doing when you have some music playing, which is why we want to know what you have on your workout playlist. We'll show you ours if you show us yours.
Anaconda –Nicki Minaj
Is this song more than just a little inappropriate? Absolutely! But you know what? Who cares as long as the kids aren't listening to it! This song is upbeat, to the point and it makes you remember like no one's business just how good it makes you feel to look good. And it always gets us moving.
This is How We Roll (remix) – Florida Georgia Line ft. Jason Derulo and Luke Bryan
Because, well, this is how we roll; enough said. It's upbeat, it's fun and it makes us want to get moving. It's a fun song that really just makes working out more fun.
Feel This Moment – Pitbull ft. Christina Aguilera
Because this is the moment. And you should feel it. And this song makes running, walking, swimming, whatever, more fun. It's upbeat, fast and it's motivational. You can't be the best of the best if you don't practice being the best of the best in this particular moment in time.
The Way You Make Me Feel – Michael Jackson
No matter how you look at him – love him in his early days and not so much in his creepy later days – there's something you just can't pass up about Michael Jackson music. In fact, we recommend you add as many of his songs to your playlist as possible.
It's My Life – Bon Jovi
Because it is. When you're feeling like giving up and not exercising again for the rest of your life because you're tired, you don't have time and you're just over it, this song is going to get you through it. No matter what kind of mood you're in, this song always makes you feel better.
Photo Peter Muhly/Getty Images for Dulux