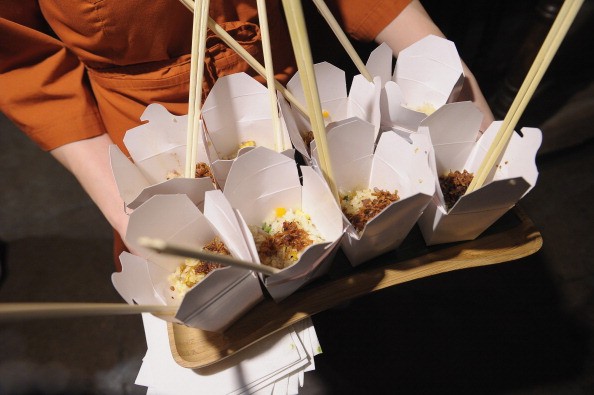 Panda Express is often found right in the foot court of the local mall, which means it can't possibly have any nutrition to offer those who love the fast-food chain, right? Well, usually, but it's not always the case. Even with fast food, it's possible to have some menu items that aren't so bad for you. When it comes to Panda Express, it's a lot more common to find items on the menu that don't contain the sheer number of calories as other items in other fast food restaurants. Why?
Because Panda Express specializes in Asian food, and Asian food is, by nature, a bit healthier than the kind of food we consider American. That's not to say it's always healthy. In fact, some people and some restaurants use too much salt, too much oil and other unhealthy additives in their Asian menus, and that makes things less healthy than they'd be if you made them at home using fresh ingredients. However, that simply does not mean you cannot find low-cal menu options when ordering from Panda Express. We have a few of your favorite Panda Express menu items here, and we've broken down the nutrition information for you.
Hot and Sour Soup – 90 Calories
Being that this is a menu favorite, most people are probably smiling from ear to ear realizing that these are dishes that have next to no calories. However, be warned that while this dish has few calories, it has a lot of sodium and other unhealthy items such as cholesterol. It has 65 mg of cholesterol and a staggering 970 mg of sodium. It does consist of 0 grams of saturated fat, but it has virtually no other nutritional value added to it. Made with vegetable stock, eggs, tofu and mushrooms, it's not unhealthy, but it's also not overly healthy.
Tangy Shrimp – 140 Calories
Shrimp is usually always a good, healthy option when it comes to eating fast food. It's healthier than many of the alternatives, and it's good, too. This particular dish is just shrimp that's made with a special sauce that gives it that tangy, delicious taste. It does not come with sides or veggies, but it is low in calories. However, this is a dish that has a bit more sodium built in that other dishes. This is because of the special sauce used to flavor the shrimp.
Broccoli Beef – 150 Calories
Beef is less common in the Asian Culture than chicken, but that doesn't mean it's not very popular. This dish is made with fresh broccoli, sliced beef that's been heavily marinated, and it's mixed with ginger soy sauce and cooked in a wok. What this particular dish boasts is that it does not have nearly the same amount of cholesterol as many of the other dishes on this list, and it has 11 grams of protein, which is virtually the highest amount found in any of the dishes here. That's not to say it's the healthiest dish on the menu, but it's not a terrible option for anyone looking to order something delicious off the to-go menu.
Veggie Spring Roll – 160 Calories
It's not as bad as most people think it is, but this is only for one spring roll. The real culprit here is the fact that these are fried once they've been put together, which means that they're a lot less healthy for you as a whole. This is a dish that comes with a mixture of usually very healthy menu items, including celery, carrots, cabbage and green onions. It does come with Chinese noodles and they're wrapped in the traditional wonton wrapper and fried until they turn that gorgeous shade of gold.
Mushroom Chicken – 180 Calories
The mushroom chicken dish is wildly popular at Panda Express, which means it's a good thing the nutrition information on this dish isn't so bad. It does have a lot of sodium, but so does anything that comes from a restaurant that uses soy sauce like most people use pepper. This dish has only 180 calories, but it has a lot of food. It's chicken that's diced and cooked with mushrooms and zucchini slices in a wok filled with ginger soy sauce. It's cooked a lot like another chicken dish at Panda Express, but the addition of mushrooms makes it a bit less health.
Black Pepper Chicken – 200 Calories
It's a Panda Express favorite, and it's actually one of the dishes with more nutrition than others on the menu. The downfall to this dish is the amount of sodium found inside, which is a staggering 740 mg. However, the rest of the dish is a lot healthier, which could make up for that if you're not an abundant salt eater as it is. This dish consists of marinated chicken diced into bite size pieces, celery, onions and black pepper, all of which are tossed in a wok with a soy sauce with hints of ginger that give it its amazing flavor.
Kung Pao Shrimp – 230 Calories
This is actually a great option for those who want to order something fast, filling and filled with fewer calories than other options on the menu. The Kung Pao Shrimp has only 230 calories, but it's a sizable dish. It comes with peanuts, red bell pepper, onion, zucchini and shrimp, and they're tossed in a wok until they're cooked perfectly and ready to serve.
Kung Pao Shrimp with Mixed Veggies – 300 Calories
It's not a bad option when it comes to having a little bit more to eat without going out of the way to eat something so unhealthy you'll feel guilty for ages. This dish has the same Kung Pao Shrimp mentioned above, but it also comes with a serving of fresh mixed veggies, which does add a bit of nutritional value to the meal, as well as only an additional 70 calories. Add a helping of French fries to a burger at other fast food restaurants and watch as the calorie count rises by the hundreds.
Photo by Michael Loccisano/Getty Images