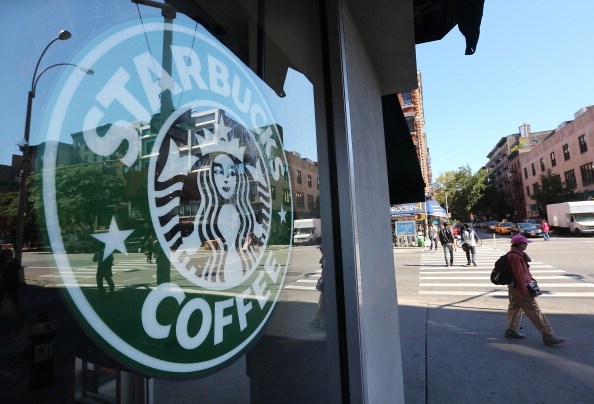 It's been more than five years since Starbucks introduced the world to a new holiday latte flavor, but this year they've brought to us Starbucks lovers the delicious Chestnut Praline beverages; and the world could not be happier. We love our pumpkin spice, and we love our peppermint, but a new flavor is always welcome. It's so hard not to head to Starbucks as often as possible this time of year for a taste of the holidays. The beverages are warm when the air is cold, the festive holiday cups are so hard to ignore, and the holiday flavor just makes it seem even more "Christmasy" when you're out shopping. Something else that's hard to ignore is the fact that there is pretty much no nutrition in any of these popular Starbucks beverages. Of course, we don't drink our coffee and lattes for the nutritional value, but we don't want to add even more calories to our already too-caloric holiday season.
So, what should you sip and what you should skip when you head to Starbucks while holiday shopping? We can't tell you to ignore the good stuff; because we know we won't. What we can tell you, however, is that you can either ignore the nutrition information on your favorite Starbucks drinks or you can just help use this information to make your order a little bit healthier. We're breaking down how to best order your favorite Starbucks holiday drinks so you can get even just a little bit more nutrition from the drink. Okay, so it's not going to add more nutrition, but it is going to take away a few calories the next time you order a holiday drink at Starbucks.
*Please note all Starbucks nutrition information is from a Grande order
Caramel Brulee Latte – 430 Calories
Sorry caramel brulee lovers, but this latte has practically zero going for it in the nutrition department but fortunately, Starbucks does offer a healthier alternative to this delicious holiday drink. Of course, you have to order it in the frappucino version to lower the calories and get a little bit more out of it, and that's not something most people are willing to do this time of year. After all, who wants a cold beverage on a cold day when shopping for holiday gifts? It kind of defeats the purpose of warming up with a cozy drink on a cold day. However, if you order the Caramel Brulee Frap Light, you'll get a drink with just as much flavor, but only 190 calories. Asking for this beverage light means it comes with no whipped cream and it's made with skim milk, so it's just as delicious but a lot healthier.
Peppermint Mocha Latte – 410 Calories
Peppermint is pretty much the official taste of the holiday, but it's far better when you have peppermint hot. Fortunately for you, you can have a warm peppermint drink when you go to Starbucks and still save yourself some calories and some unhealthy additives. Order a skinny peppermint mocha and you'll take hundreds of calories away from your drink. No really, you're going to get a drink that has only 130 calories instead of 410. That's a big caloric savings, and it's hard to deny something so delicious.
Chestnut Praline Latte – 330 Calories
It's hard to deny yourself a trip to Starbucks to try the newest holiday flavor, and while it's cool to go ahead and order this one in its full glory at least once, we have a recommendation that's going to make it a bit healthier as a whole. You can order it 'skinny'. This means it'll come with skim milk and no whipped cream, but it'll also drastically lower the number of calories in your drink. Just how much will it lower your calorie level? Significantly; just leaving out the whipped cream and the whole milk is going to drop the calories in this drink from 330 to 260. That's 70 calories that you're saving, and that's pretty good.
Eggnog Latte – 460 Calories
Who doesn't love eggnog? It's the official drink of the holidays, whether you like it with a little something extra in it or you like it how it is. Either way, you get to have a delicious drink when you go to Starbucks and it's made from eggnog. This drink has more calories than any of the other holiday drinks at Starbucks, which means nothing good where nutrition is concerned, but it means everything where flavor is concerned. If you want to make this one just a bit healthier, you can modify it just a bit by ordering an eggnog frap, light. This drops the calories to 200 and makes things a lot healthier all around. The only downfall is that you're now drinking something cold.
Gingerbread Latte – 320 Calories
It's so good having a glass of warm gingerbread, but it's so unhealthy. Skip this drink and order an iced gingerbread latte and you will find that you have half the calories and half the fat. The iced gingerbread latte is only 160 calories, tastes just as good and it's cold. While you might not want to order something cold this time of year, sometimes you have to take one for the team if you want this particular flavor.
We also have one more tip that will help you make your holiday drinks just a little bit healthier. Instead of ordering the grande, as the health information here is listed, order at all. It's not as big, but it's just as good and it means you can order what you want and consume fewer calories in the process. Ask for whatever you want in a skinny version, no whipped cream and tall and you won't have to resort to ordering the cold version of your favorite holiday drinks. We love Starbucks, and it's never more delicious than it is this time of year when the holiday drinks are out; nutrition aside. Fortunately, you don't have to gain too much weight enjoying these drinks.
Photo by Mario Tama/Getty Images