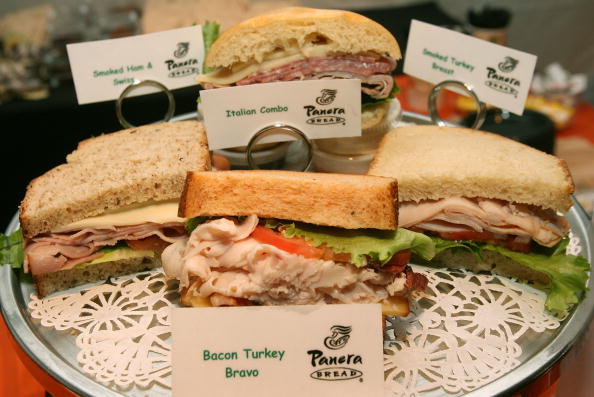 Panera is one of the most famous chain cafes in the country. It's here you can get a ready-made breakfast, drinks, coffee and so much more. You'll find that many of the menu items are desperately unhealthy – and it's obvious which ones those are – but you'll also find that some of the items on the Panera menu you thought were healthy are actually anything but. Read on to find out a few surprising nutrition facts from Panera.
Whole Grain Loafs
Many people walk into Panera and assume that by ordering a whole grain loaf, they're not doing anything bad for their bodies. However, the nutrition information about a whole grain loaf is not as good as you'd think. Why? Because the recommended serving size is only two ounces, which is far less than the actual serving size; 130 calories might not seem like much, but that's per 2 ounces.
Bagels
Another surprising piece of nutrition information at Panera is the fact that you probably aren't ordering what's healthiest. For example, if you walk in to get a bagel that's healthy, you might opt for a whole grain bagel. What's going to surprise you is that there are far more calories in the whole grain bagel than there are in the plain bagel. Sometimes simple is better, and sometimes it's not.
Baked Egg Souffles
Who said that these things are healthy? Perhaps you choose to get the spinach and artichoke baked egg dish because it looks healthier than the spinach and bacon or the sausage and gouda. You walk around all day thinking you made the healthy decision. You did; but only by a few calories. Spinach and artichoke has less than 20 fewer calories than the dishes you really want – and it's well over 500 calories per dish.
Café Sandwiches
How many times do you walk into Panera and think, "I'd love a good old homestyle grilled cheese sandwich," and then ordered a full Mediterranean veggie on Tomato Basil simply because it's veggie and it's healthier? Well, you're fooling yourself. The full veggie has more than twice as many calories as the grilled cheese. It's surprising that many of the menu items that look and sound healthier are actually far worse for your body.
Cream Cheese
We all love some good cream cheese, but many of us opt for the reduced fat type because it's healthier. Well, here is the fact at Panera: Reduced fat cream cheese has 50 fewer calories than regular cream cheese. The biggest shocker, however, is that the serving size is only two ounces, so it's very easy to consume entirely too much.
(Photo by Jesse Grant/Getty Images for IMG)