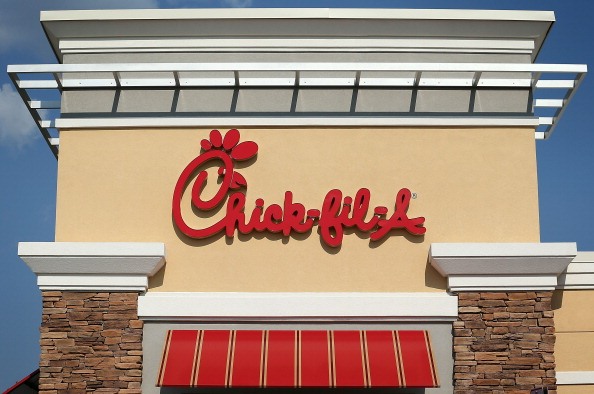 If it's Sunday, you can bet that most of us are suddenly craving Chick-fil-A. Seriously, the one day of the week that the fast food restaurant is closed, and all of us are suddenly craving a chicken sandwich or those amazing waffle fries; and it never fails. While employees are appreciative that the company closes its doors on Sunday out of respect for family and church, the restaurant is open the other 6 days of the week, and that leaves us plenty of time to get our Chick-Fil-A nutrition on.
It's fast food, yes, but it's one of the healthier fast food establishments you will find. Chick-fil-A might have more to offer in terms of nutrition, but that doesn't mean you can eat there daily and get away with it. It also doesn't mean you can just order whatever you want and be content that you are getting some form of nutrition at Chick-fil-A. The fast food restaurant might not serve beef, but that doesn't mean that all its chicken is good for you. Fortunately, the Chick-fil-A nutrition page online has a lot of information regarding what you're eating, including suggestions about what you should eat, suggestions about how you should exercise after you dine out and so much more. We've rounded up some of the most interesting information from the page and brought it straight to you.
Healthy Lunch and Dinner
If you just can't stop yourself from eating at Chick-fil-A (and who can?), you need to at least order something that's going to make you feel good about what you just ate. The healthiest meal on the menu in terms of calories is the 8-piece nugget meal. However, you have to skip the fries, opt for a small chicken soup and drink water or unsweet iced tea for a grand total of 270 calories – 140 of which are from the chicken and the rest is from the soup. Additionally, you can eat the grilled chicken sandwich, enjoy a side salad and have water for 400 calories. See – it's not so bad.
You can also make your meals a bit healthier by doing things like ordering your sandwiches without butter on the bread – did you even know they did that? Another tip is to go with wraps, options with more fiber and even whole wheat versions of their favorite offerings. One good thing about Chick-fil-A is that they certainly do not hesitate to offer you good, healthy options when it comes to what you want to eat, what you order and how you handle yourself while out in public ordering food that's good for you and your body.
Diabetes, Allergies and Celiac Disease
Chick-fil-A knows enough about nutrition and health to understand that some people have conditions that make it impossible for them to eat whatever they want, and even to eat in public in most instances. For that reason, the restaurant makes it well-known that they have considered those health issues and worked very hard to ensure that they have something to offer those who cannot eat just anything. It is imperative that you remember that no matter what you do, you should always check with your doctor prior to ordering anything that you might want at Chick-fil-A or any other restaurant. It's the best way to ensure that you are getting the proper nutrition and not causing any negative effects on your health.
For example, the diabetic exchange option on the Chick-fil-A nutritional guide helps diabetics understand what it is they are consuming when they are in the restaurant so that they can make informed and educated decisions regarding their meal options. The restaurant provides a list of all the items on their menu that are gluten-free so that those who wish to eat at Chick-fil-A but have special dietary needs thanks to Celiac Disease or other dietary matters can have something to choose from.
As far as allergens are concerned, Chick-fil-A offers a complete guide to each possible allergen, and offers customers the information that they prepare their meals in a way so that there is no cross contamination of allergens. However, they do use certain ingredients that may or may not be present in most dishes, which is also why they recommend you never order anything from their menu until you have taken the time to speak with your doctor about how it could affect your health.
Chick-fil-A's Tips for Dining in Public
Something that Chick-fil-A does that not many other restaurants bother with is providing you with information that will help you when you're dining out, such as tips for making your meal a bit healthier. Their website lists their tips and tricks for healthy fast food dining, but we've taken a few of our favorites to help you feel good about what you order.
One of the simplest and most effective tips is to order your condiments on the side. You can save yourself a few calories and other unhealthy additives this way by having them on the side and putting them on your meal yourself. By controlling your own portions, you can control your own health.
Chick-fil-A health experts also recommend you avoid eating large portions to maintain portion control and a healthy waistline. Unlike most restaurants, they encourage you to share large portions with those in your party so that you consume less and stay a bit healthier. They also recommend that you forgo their soda and sweet beverage options in favor of unsweet beverages or water. It's far healthier than soda, juices or sweet teas.
The company even goes so far as to encourage you and your family to get some exercise. They recommend allowing your kids to play in their lovely indoor play areas, taking a walk as a family and even playing a game of tag. If you're looking for a way to encourage a little good health in your family, you're going to want to check out the Chick-fil-A health guide for recommendations that will help you and your family get fit and stay healthy for years to come.
Photo by Alex Wong/Getty Images