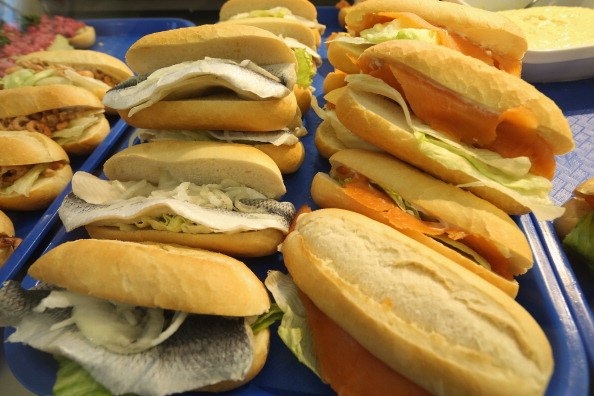 If you've never eaten a Jimmy John's sub, it's time to get up and go find one; seriously. They are some of the best subs in the world, and you're missing out tremendously if you've never had one. Unfortunately, we don't recommend you eat them on a daily basis. In fact, you might want to go ahead and stop what you're doing and take a moment of silence because you're about to learn that your Jimmy John's addiction is the reason you're not losing any weight.
Most people assume that eating a sub is a far healthier choice than eating a Big Mac – and it often is. However, there are some subs that are just as unhealthy, if not more so, than the ones on any fast food menu. Jimmy John's is not the exception to the rule. If you're going to eat one of their decadent and amazing subs, don't let us stop you. Just let us stop you from ordering one with so many calories you're not going to be able to eat anything else all day for fear of gaining too much weight. Read on to find out which Jimmy John's menu items have the most calories.
#16 Club Lulu – 755 Calories
This is from the Giant Club Menu. The sandwich is larger than the traditional sub, and it's got a lot more calories because of it. This sandwich comes complete with turkey, mayo, bacon, lettuce and tomato – and the menu assumes you want your sandwich on white bread. It doesn't account for anything additional you choose to add to it, such as cheese or extra mayo or other dressings or veggies, which is pretty sad considering how many calories are in this sandwich.
#17 Ultimate Porker – 760 Calories
When something is named in this manner, it only makes sense it would have this many calories. The Ultimate Porker comes with applewood smoked bacon, applewood smoked ham, mayo, lettuce and tomato. Again, it doesn't seem like a sandwich that would contain so many calories, but it is. You're better off getting this one on an 8" bread selection or as a thin.
#11 Country Club – 765 Calories
Filled with turkey breast, applewood smoked ham, provolone cheese, lettuce, tomato and mayonnaise; this is a sandwich many people mistake for healthier than it really is. If you insist on eating this one, stick to half of it, have the mayo removed, go with wheat bread and don't even consider eating the entire sandwich. And if you really want to lower the calorie count, get rid of the cheese on this one.
#13 Gourmet Veggie Club – 773 Calories
Perhaps the biggest shocker of them all, the veggie club is one of the unhealthiest subs on the menu. It's filled with calories, fat and other bad items you just don't want. It's also filled with double the cheese (provolone to be precise), avocado spread, cucumber, tomato, lettuce and mayo. You can make it a bit healthier by having it on the whole grain bread and opting for one that's only 7" if you really prefer to make it healthier – and you should prefer to make it healthier. A veggie sub shouldn't have more calories than a happy meal, for crying out loud.
#7 Gourmet Smoked Ham Club – 775 Calories
When a sandwich consists of a quarter pound of smoked applewood ham, provolone and mayo in addition to lettuce and tomato, it's got to be bad for you, and it is. This one screams artery-clogging madness, and it's not going to disappoint. The downer is that it's delicious. The upper is that you can get a smaller portion and perhaps forgo some of the less health options, such as the mayo and the cheese.
#8 Billy Club – 796 Calories
With roast beef, smoked ham, mustard, provolone cheese, mayo and lettuce and tomato, it's a delicious sub. However, it's almost 800 calories; for one meal. Most people who eat a healthy and delicious diet don't even consume 800 calories at dinner, and so this should show you that a sub is not always the healthiest option when it comes to eating fast food. You might as well get a happy meal and add a chocolate milk shake to the side if you're going to eat this sandwich.
#10 Hunter's Club – 807 Calories
If you love your meat bloody, you'll really want to try this medium rare roast beef sandwich with provolone cheese, mayo, tomato and lettuce on it. It's going to make you happy in the moment, and it's going to give you serious remorse later. This calorie-filled sandwich is enough to make you feel guilty for the next week. Go for it if you must, but try to go for a smaller version. No one really needs this much sandwich in the middle of the day.
#15 Club Tuna – 843 Calories
If you want to skip all these calories and go with something healthier, opt for the number 3. It's the same meal, just on a normal scale in terms of serving size. This one has tuna salad, provolone, lettuce, mayo, cucumber and tomato. It's not overly unhealthy in that it's filled with junk, but there is so much of it and so much of the bad stuff that comes with it that it makes it about as unhealthy as a sandwich can get.
#9 Italian Night Club – 948 Calories
Italian capicola, genoa salami, smoked ham, provolone, tons of mayo, lettuce and tomato is what the menu boasts this sandwich is equipped with. Sounds amazing, right? Wrong; if you want to eat healthy and not kill yourself a bit every day at lunch. This is a great sub, but go forward with ordering the smaller one. This is just too many calories for any one meal to have.
J.J. Gargantuan – 988 Calories
The biggest sandwich of them all; and it's only 40 calories more than some of the smaller sandwiches. The menu at Jimmy John's actually says this sandwich has "Tons" of everything on it. This includes salami, ham, capicola, roast beef, turkey, provolone, mayo, onions, lettuce, tomatoes, homemade Italian dressing and a gorgeous French bun. It's amazing, but it'll kill ya.
Photo by Sean Gallup/Getty Images