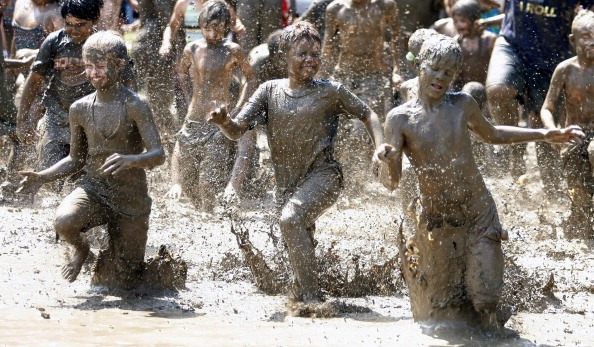 You won't find many women willing to run around in the mud on a regular basis, but when it comes time for the Dirty Girl Mud Run; bring it on. In support of Bright Pink, the only non-profit that shifts focus to the early detection of ovarian and breast cancer in young women, Dirty Girl has donated more than $475,000. This year the run hopes to donate another $125,000 to Bright Pink. If you haven't signed up for the annual Dirty Girl Mud Run in Philadelphia on July 12, now's the time to get down and dirty for a great cause.
About the Mud Run
This is a 5K that challenges women to break out of their comfort zones in an effort to have fun and get dirty. The course is completely with Utopian Tubes tunnel crawls, PMS – Pretty Muddy Stuff – and even a dirty dancing giant slide. There are mud pits involved as well. The obstacles are optional, but the run isn't nearly as much fun without them. Every year, the Dirty Girl Mud Run is attended by thousands of runners, walkers, crawlers, and spectators. No matter your athletic ability – or lack thereof – this the run for you. There is no athletic requirement or skill required, just fun and a desire to get dirty for a great cause.
Breast Cancer and the Mud Run
If you or someone you know is a breast cancer survivor, there are 300 free registrations available. Cancer survivors are encouraged to participate as a way of getting dirty to show their fellow runners and cancer patients that they can do anything.
If you're not in it to win it – or just have fun – you can always volunteer your time and services to help the run. Each volunteer receives community service hours, a tee shirt and complimentary entry into a future Dirty Girl Mud Run.
Registration for the run begins at $85. Every woman over the age of 14 is invited to participate. For more information you can visit the dirty girl website.
(Photo by Bill Pugliano/Getty Images)