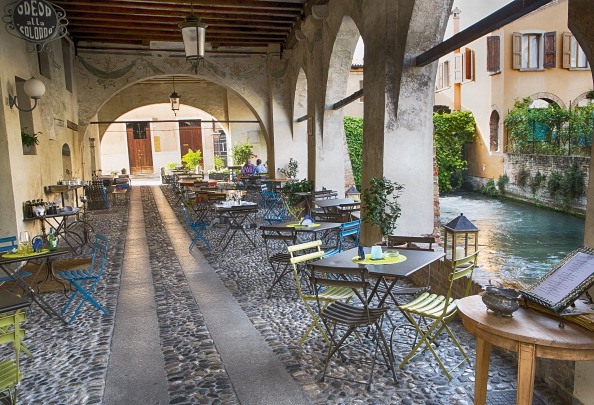 Starchy carbs, red wine and lots of bread make for very happy diners; and that's why so many people prefer to dine at Italian restaurants. Even the chain ones, the ones real Italians aren't particularly fond of, offer some of the most indulgent plates. The meals always seem home cooked, and they're such comfort foods. Italian food is difficult to dislike, and that's why so many people overindulge in the pasta goodness that comes from Italian restaurants such as Olive Garden and Carrabbas, and those that are locally owned and operated by real Italians with serious culinary skill.
Most people look for advice about eating healthy while eating Italian. It can be done, but we think that's boring. We'd rather just regret that second helping of lasagna tomorrow and enjoy that second glass of wine tonight while pretending that what we're consuming isn't a million calories that will result in so much self-shame in the morning. Sure, you can eat healthy and eat Italian, but we prefer not to. However, while we think it's totally fine to regret all that you ate tomorrow, we don't think it's cool to regret what you paid for dinner. That's why we choose to teach people how to save money when they eat Italian food.
You shouldn't have to worry about the budget when you're ordering that sauce filled plate of pasta. All you should worry about is whether or not you will have room for dessert when you're done eating it (oh, who are we kidding…you're eating the dessert whether you have room or not). So, let us give you permission to have an off night when it comes to eating in moderation and making healthy dining choices. But let us offer you a night of big savings. The less you have to feel guilty about, the better.
Go Early
It's easy to save when you head out for dinner during the times in which menu items are the least expensive. For example, if you go for lunch instead of dinner, you will always save. And it's important you don't discount the fact that early bird specials are a great way to save money and feed your entire family. It might seem a little bit strange to go to dinner at 4:30, but it'll be after 5 by the time you eat and far enough from bedtime that your kids won't lose their minds during dinner because they're so exhausted and ready to get home. It's a win-win situation for all involved; you, the kids, the restaurant and everyone around you.
It's during these times that meals are a little less expensive. The portions might also be a bit smaller, which is certainly good for your waistline and your wallet. It doesn't hurt to enjoy a good Italian meal with fewer calories and a smaller plate; you'll live longer for it.
Go Online
Most chain restaurants offer something that so many diners have no idea they offer. All you have to do is go to your favorite Italian restaurant's website and look for the current coupons and deals. They're usual BOGO deals, special menu items made for sharing or even dollar amounts or percentage discounts you can use when you pay for your meal. These are great deals that should not be discounted when you head to your favorite restaurant for any meal. Just be sure to check the fine print for expiration dates and restrictions such as the fact that most coupons are not valid with alcohol purchases or at certain times of the day or even on special days.
Sign Up
While you are online looking for discounts, check to see if your favorite restaurant has a loyalty program you can join. These are typically free and come with a lot of perks, such as discounts on meals you might want, special pricing and even coupons you can use. Many even offer a free appetizer, entrée or dessert on your birthday, which is always a fun way to enjoy your day and save money at the same time. This could benefit you even more if your favorite restaurant is owned by a major brand, such as Darden, and you can sign up for the loyalty program with your favorite Italian restaurant and receive discounts at not only that specific restaurant, but all restaurants owned by this company.
Share Your Food
This is a great alternative to a cheaper bill and better health. We love this idea, and we stand by the fact that we say it all the time; share your food to make your meal healthier and less expensive. Most restaurants offer portions that are far too big for one person. It might not look too big to you, but the recommended portion size for Americans is a little less than half the size of what most restaurants offer their customers.
Do yourself a favor and order a meal, and then split that meal with a friend or associate. This is going to save you half the price, and half the calories. Additionally, you're going to feel a lot better about yourself when you don't eat the entire plate and then help yourself to dessert.
Ask for Specials
You can ask for the daily special, which is usually something the chef picks out, and you can ask for other specials. Not all restaurants do this, but some will offer you special meals that aren't on the menu and discounts that aren't advertised if you just ask. It's not something we can guarantee will work every single time, but it never hurts to ask your server or the manager if there are any discounts available to you or any special menu items you can create that might not be on the menu. The latter, especially, is likely to happen if you just take the time to ask for it. Many chefs are happy to prepare whatever a customer wants, especially when it allows them to become a bit more creative than usual.
Photo by Marco Secchi/Getty Images