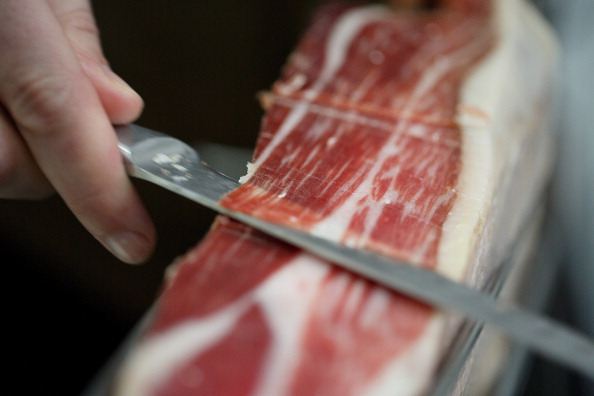 It's cold outside, and that means you want to come home to a warm house, a fire in the fireplace and a delicious dinner. The crock pot is great all year, but there's something extra special about it during cold winters, and we love some of the amazing recipes that you can make this time of year. There is no limit to all that you can put in the crock pot when the cold weather attacks. However, we love the idea of comfort foods that just make us feel so warm and happy on the inside. These foods do something so wonderful to the way that we feel at the end of a long day, whether we have been at work or running the kids around all day. Opening the door to the wonderful smell of dinner already cooking (and the knowledge that you're not slaving in the kitchen all even) is remarkable. Here are 10 of our favorite and most delicious crock pot recipes perfect for a cold winter evening.
Chili
I'm not even going to tell you how to make chili in the crock pot. You just have to choose your favorite chili recipe and go from there. We love it because it's so delicious and it's perfect for a cold day. The crock pot makes it so much easier. Everyone has their own favorite recipe for chili, so go ahead and stick it in the crock pot on low for 10-12 hours and enjoy. Just be sure to brown that meat first. It's always important.
Tennessee Chicken
This is something that I ate in Tennessee, hence the name. I got the recipe and not the name, so the name has been changed to reflect that fact that I'm making my favorite chicken from that one time we were in Tennessee. All you need to feed four is a package of boneless, skinless chicken breasts. Toss it in the crock pot on low for 10 hours. Add 8 ounces of cream cheese, a package of zesty Italian seasoning, a can of cream of chicken soup and a can of cream of mushroom soup to cook with it all 10 hours. Serve it over pasta and prepare to fall in love.
Chicken Fajitas
All you need to do to make this is put your favorite fajita recipe in the crock pot for 4 to 6 hours on low. We aren't going to give you a recipe because, again, most people already have a favorite and you can adapt any fajita recipe to a crock pot in no time at all. It's delicious and it's a great idea for a cold winter night crock pot meal. The only thing you will need to do when you get home is warm up your tortillas and set out the cheese and sour cream.
Pot Roast
You have your favorite recipes, but all you need is a package of beef broth, a beef shoulder of some sort, potatoes, onions and carrots and you have the perfect meal. Cook this in the crock pot for 10 to 12 hours on low and prepare to enjoy some of the most tender and delicious meat you've ever encountered. A warm loaf of French bread is going to work wonders with this meal.
BBQ Chicken
Here's what you need; a package of your favorite boneless and skinless chicken breasts, 2 cups of ketchup, a cup of brown sugar, a cup of vinegar and an entire bottle of BBQ sauce (Sweet Baby Rays is by far the best you will find). Mix it all together in the crock pot and cook that baby on low for 6 to 8 hours. Make sure you let the chicken fall apart by helping it with a fork and then serve it over rice or on a bun for a delicious sandwich.
Roasted Chicken
Few things are more delicious in the crock pot than an entire chicken. You can put one in here with a little bit of butter, some olive oil, garlic, a little salt and pepper, some lemon pepper, some garlic and wine seasoning and about 8 hours on low. You will have an entire chicken that is literally falling off its own bones. That's how moist and delicious your meal will be tonight when you use this recipe. And you can serve it with whatever you want.
Pulled Pork
Not personally a pork person over here, but that doesn't mean millions are not. If there is one thing I've learned about pork, it's that everyone has their own favorite way to cook it and season it. I'll just say this; you can make a pulled pork recipe in the crock pot with about 8 hours on the low setting, and all you need is to figure out how you want to season yours. Pick your favorite, or let Pinterest inspire you; I've been assured that it will be delicious.
Lemon Garlic Chicken
To make this very simple meal, just add a package of your favorite boneless, skinless chicken. Slice up two whole lemons and toss them on top. Drizzle olive oil over both. Add fresh garlic, salt, pepper and any other seasoning you find good with garlic and lemon. You need about 6 hours on low to make this meal happen. The chicken will be moist and flavorful, and you can serve it over rice, with potatoes or with fresh veggies to make it even more delicious.
Meatballs
Spaghetti and meatballs are a classic American favorite (even though they're clearly Italian) and we love meatballs in the crock pot. They always have so much more flavor and so much more to offer, don't you think? It takes less than 15 minutes to make pasta when you get home. So all you need to do is add your favorite meatballs to your favorite spaghetti sauce and put them in the crock pot together. Cook these on low for 10-12 hours. They'll be moist and amazing when you are ready to eat.
Sloppy Joes
How do you make your sloppy joes? Well, it doesn't matter. Because now you are going to take your favorite recipe and put it in the crock pot. You can do 8-10 hours on low or 6-8 on high. When you get home, the only thing you will have to do is get your bread ready and make a sloppy joe to eat.
Photo by Pablo Blazquez Dominguez/Getty Images