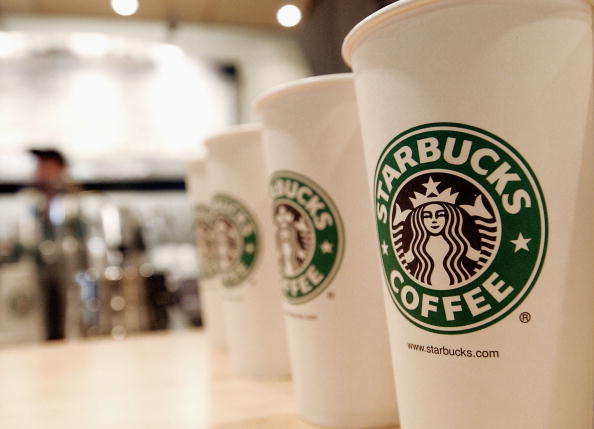 Almost everyone loves a good Starbucks latte or coffee, and that's especially true when the holidays roll around since the store is a huge fan of giving away free holiday drinks. The famous coffee shop announced several new flavors recently, and it also just announced that holiday shoppers are going to get one heck of a deal in the coming days. With so many holiday-themed coffees to choose from, it looks like you're going to be able to get what you want without much stress or money in the coming days as Starbucks has announced their amazing buy one, get one free holiday drinks deal.
The famed coffee shop is allowing any and everyone who comes into the store to buy one holiday drink and get another one free of charge; it is the best free holiday drinks deal around. This offer is good only on the Caramel Brulee Latte, the Chestnut Praline Latte and the Peppermint Mocha Lattes from Thursday, November 11 to Sunday, November 16. The deal is only good for those who come into the store or the drive thru to purchase their holiday themed latte between the hours of 2 pm and 5 pm, and it's only good for these days. However, if you are a Starbucks Rewards member, you can also take advantage of this awesome deal on the 16th of November (Monday) from 2 pm until the store closes if you want your free holiday drinks.
Starbucks Rewards are free, and they are easy to sign up for. You can sign up in the store, online or through the mobile app. It's free of charge, and it takes only a few moments to sign up. The membership is a good one to have, too. For starters, there are certain levels. Each level allows you to earn free items, perks and amazing features. If you're still not sure that this is something you should try, let us help you make the decision. Everyone loves to save, right? You can have your free holiday drinks now and some bonus free holiday drinks (or anytime drinks) later.
Green Level
When you sign up for a Starbucks Rewards account, you will get to start with the Green level. This is not a bad place to start because the perks are still pretty good even though everyone gets to be a Green Level member.
Free coffee on your birthday – any drink of your choice
15% discount at StarbucksStore.com on your birthday
Free in-store refills when you pay with your registered Starbucks Card or the mobile app (free brewed and ice coffee all day long, as well as tea)
Special offers throughout the year sent to your account and to your email address you can take advantage of
Gold Level
Once your account reaches 30 stars, you can become a Gold level member if you do this within one year of opening your Starbucks Rewards account. There are even more perks associated with Gold level membership, including the ones that are associated with the Green level.
Free item every time you earn 12 stars
You get your own personalized gold card
More amazing offers when you sign up for this membership and reach this level
All the same perks associated with the green level
How to Earn Stars
You can earn points with the Starbucks Rewards program by signing up a gift card that was used in the store, by downloading the mobile app and showing it when you pay for your purchases and by shopping at your local store. You can pick up any Starbucks product and enter the code that is on the product to receive the points. For example, we don't have a Starbucks near us (the downfall of living in a Florida beach community) but my husband and I drink Starbucks K-Cups at home. We go through 3-4 boxes per week, and we get to use the codes on each box to earn points for our Starbucks Rewards membership, so we have well above 30 stars and have made it to the Gold level.
It's a very simple concept, and it's great for anyone who really does love to drink Starbucks – and not just for the free holiday drinks.  If you work somewhere near one and you love coffee, tea or iced coffee, having free refills is a huge bonus. If you are a student who spends a lot of time on work connected to the free Wi-Fi at Starbucks, you will find that this is a great way to earn points and to get free refills. Everyone loves to drink coffee, but not everyone loves to pay for it as much as they love to drink it. Join this program, take advantage of free drinks for an additional day and anytime you go into the store and really get to know how beneficial it is to be a part of this particular program.
Photo by Getty Images