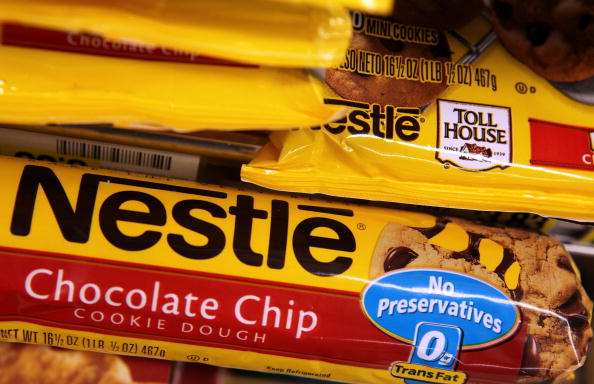 The perfect chocolate chip cookie is something we've all strived to perfect, and it's not that difficult to make happen. I've been working on a recipe my grandmother gave me many years ago, trying to tweak it so it's just perfect. She uses the recipe right from the back of the semi-sweet nestle chocolate chip bag, but I've found a way to change that recipe up just a bit so that it's completely perfect, perfectly golden and absolutely amazing. And for a decade, everyone asks me to bring my chocolate chip cookies when we go somewhere; they just can't get enough. I've taken some aspects from other recipes, tweaked and changed and worked, but I've finally decided they are the perfect cookie, and now I'll share that perfection with you all.
What You'll Need
1 bag semi-sweet chocolate morsels (nestle is the best)
1 stick Crisco shortening
¾ cup brown sugar firmly packed
¾ cup white sugar
2 medium eggs
1 tbsp vanilla extract
A dash of baking soda
Salt to taste
2 ¼ cups white flour
To Make
You will want a light colored cookie sheet – no dark colors. The cookies don't turn out well on dark color sheets because of the way the heat is absorbed into the pan. And do not spray the pan with anything. These cookies will not stick, but they will not bake correctly if your pan is sprayed.
Mix your shortening, brown and white sugar completely together. Then add the eggs, vanilla, salt and baking soda to the mix and mix it completely. Finally, add your flour. Once everything is mixed, you will add your bag of chocolate chips. I don't like mine too chocolately, so I usually add about ¾ of the bag, but people seem to like more chocolate, so add the entire bag.
Next, place all of your dough on a large piece of aluminum foil and wrap it up in a long rounded tube shape and place it in the freezer. You will want the dough cold before you use it. I like it in there overnight, but you can use it after an hour or so. Turn the oven onto 350 and take the dough out. Form it into small balls about an inch in diameter and place them on the pan.
Bake your cookies for approximately 8-9 minutes, rotating the pan halfway through the cook time to evenly brown the exterior. This is going to make the cookies a gorgeous shade of gold all the way around, and still leave them doughy enough to be amazing when they come out of the oven.
When the timer goes off, remove the cookies from the oven and leave them on the pan for 2-3 minutes to harden a bit before you remove them. That's when you can take them off the pan and allow them to cool. Or not – we don't like them too cool, either.
Photo by Justin Sullivan/Getty Images