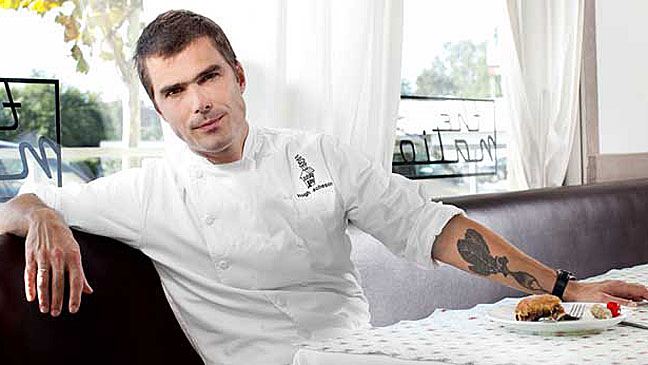 As Bravo Top Chef judge, James Beard Award winning chef and author of the new swatchbook Pick a Pickle, Hugh Acheson has a passion for reconnecting Americans with fresh, local foods.  To further this mission, Chef Acheson has partnered with Jarden Home Brands, makers of the Ball brand home canning products, for the first annual International Can-It-Forward Day presented by Jarden Home Brands.  A day to celebrate fresh and local ingredients, thousands across the world will tune in to a live webcast on FreshPreserving.com on Saturday August 16th to learn how to pickle, preserve and craft in mason jars. Broadcast live from Brooklyn Borough Hall Farmers Market in NYC, the webcast will allow home and onsite viewers to have Chef Acheson answer all their preserving (and cooking!) questions in real time.
For now, you can enjoy Hugh's answers to our own questions below!
1.Tell us about your background
I'm the youngest with three older sisters and spent most of my childhood in Eastern Ontario and western Quebec, though two teenage years were spent with my mother in Clemson, South Carolina and Atlanta. At a young age, I had an excitement for food. In my teens, I remember walking through Ottawa's Byward Market and reacting to the weekly changes in the produce, watching as things came in after harvest.
2.What got you interested in cooking?
When I turned 15 I started cooking as an after school job which then turned into a profession I'm passionate about and thankful for every day. I began moving up the ranks from dishwasher to working in high class Italian restaurants in Montreal, learning as much as I could from the talented chefs around me. I learned in a very Canadian way and most importantly, recognized the importance of sourcing fresh, local ingredients and supporting the surrounding community.
3.What is your favorite dish to cook?
Since it's summer, I'm thinking about shrimp and grits with pickled cherry tomatoes.
4. What is your favorite dish to eat?
Anything and everything! I want it if it's in season.
5. Tell us about your experience on Top Chef
Competing on TC is difficult, it's very challenging and stressful but judging is a delight. Working with Gail and Padma, and Tom is always tons of fun.
6. What advice would you give to aspiring restaurateurs?
Create restaurants that people yearn to go to once a week.
7. Is formal education necessary to become a chef?
No.
8. Of all your restaurants, which one is your favorite and why?
I do not play favorites! These are my babies, and each is uniquely special.
9. What do you dislike most about cooking?
Burning all the hair on your hands daily.
10. If you could cook for anyone who would it be?
My family. I don't get to often enough.