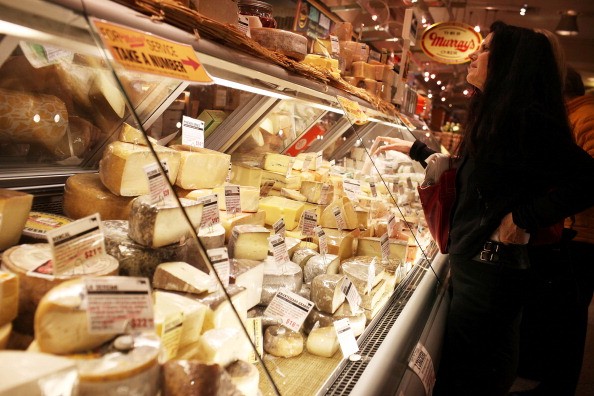 By Cathy Strange, global cheese buyer for Whole Foods Market
Figuring out the formula for the perfect cheese plate takes the stress and guesswork out of holiday entertaining. Surprisingly enough, the cheese itself is only one small piece of the puzzle. Combining classic tips and flavors with surprising new textures and products will ensure there's something for every guest this season.
Please with the best cheese
Winter is the perfect time to celebrate Alpine cheese, known for buttery, nutty, grassy flavors because of the grazing cows do. Le Maréchal is the perfect example, which is a handmade raw milk cheese that is sprinkled with herbs while it matures, giving it a savory, rustic flavor. In fact, I travel to the Swiss Alps each summer for the Transhumance (learn more), when the animals are moved up the pasture starting in May or June and moved down in Mid-September.
French affineur Hervé Mons creates the most luscious camemberts, a quintessential holiday entertaining cheese. This year, wow guests with one or both of his newest creations – one stuffed with a creamy porcini mushroom center, the other with a fresh French truffle crème. For a fun, festive twist on a traditional cheddar, the Hennings Cranberry Chipotle Cheddar will delight adventuresome tasters.
Serve up crackers (or not)
Leslie Stowes crackers are as beautiful as they are flavorful, with fun flavors like pumpkin spice. This year, there are even savory flatbread cracker options in fennel and kale and walnut flavors.
But, sometimes the perfect crunch can be achieved without a cracker, which can satisfy friends with special dietary needs. Simple & Crisp blood orange dried fruit crisps are the perfect example. The deep red pop of color serves as the perfect canvas for a soft-ripened cheese like a brie or camembert.
What about some good, old-fashioned popcorn? This fun textural twist on a cheese plate will bring a fun twist to any gathering. Our friends at Rogue Creamery created Blue Heaven, a blue cheese powder to sprinkle on popcorn or chips for an amazing accouterment to the plate!
Don't forget the fruit and nuts
Fresh and dried fruit always has a place on a seasonal cheese board. Whether serving up dried figs or dates or fresh apple or pear slices, the sweetness and acidity cuts nicely through the creamy cheese flavor. And, fresh walnuts and pecans or salty Marcona almonds provide the perfect palate cleanser. For an extra sweet treat, have honey (maybe even garnished with some fresh rosemary or thyme) ready for drizzling.
Find these exclusive items at a Whole Foods Market near you. And be sure to visit with the cheesemongers at the store, many are Certified Cheese Professionals™ and can provide tips and tastes of the season's latest.
(Photo by Spencer Platt/Getty Images)