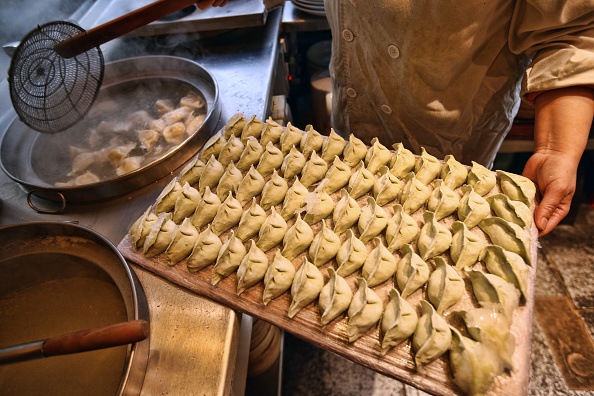 Some people refer to them as dumplings and some people refer to them as potstickers. Personally, we don't care how you refer to them, just that you eat them because the recipe we are about to share is pretty good. These amazing dumplings (or potstickers, if you prefer) are perfect for ringing in the Chinese New Year, for eating on a random Tuesday night and for just about any other time – ever. They're good; and you won't be able to forgo making them on a regular basis if you can help it. Chinese pork dumplings are a classic, and we've taken the recipe and broken it down so it's simple to follow and really just as easy as pie to make. It looks a lot more confusing than it really is at first, but read through the instructions and that will help you understand what's required of you from the start. Ready? Here we go.
What You'll Need
1 lb pork tenderloin
2 eggs
½ cup soy sauce
1 tbsp rice vinegar
1 tbsp chopped chives
1 tbsp sesame seeds
1 tsp siracha
3 minced garlic cloves
2 tbsp. chives – chopped
2 tbsp soy sauce
1 ½ tbsp sesame oil
1 tbsp fresh ginger
50 dumpling wrappers
1 cup vegetable oil
2 quarts water
To start, just combine your ½ cup of soy sauce with your 1 tbsp chives, your sesame seeds and the siracha along with your rice vinegar in a bowl and then put it off to the side while you move on to the next portion of this recipe.
From there you will take your eggs, pork, 2 tbsp chives, soy sauce, sesame oil and ginger and place them in a large bowl. Mix everything together very well  and set this to the side. You'll then flour your work surface very lightly and begin laying out your dumpling wrappers one at a time. Fill them with the pork sauce by about a tablespoon at a time. Using just a bit of water on your finger, lightly wet the edges of your dumpling wrappers and then pinch the ends together to keep the inside where it needs to be.
You will cook your dumplings in a large skillet over medium heat over just a few tablespoons of vegetable oil. Each will take around 2 minutes per side. Once done, add a cup of water and let the dumplings cook another five minutes so that the pork is cooked well. Once finished, use the first sauce you made for dipping and just enjoy your meal.
We've included a video to help you out with this recipe.
Photo by Carl Court/Getty Images