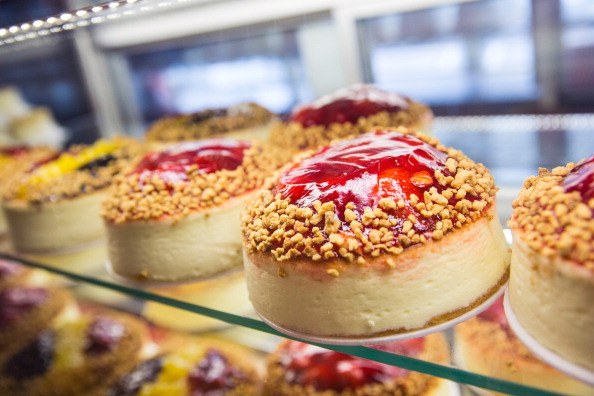 There's cheesecake, and there is New York style cheesecake. Cheesecake is good. It's delicious and it tastes wonderful and there is nothing wrong with it. But it's not the real stuff when you compare it to a real New York style cheesecake. There is nothing like the rich flavors, the decadent taste and the sheer deliciousness that comes from the real deal. That's why so many people are always on the lookout for a recipe that reminds them of eating cheesecake in New York. We have one recipe for a delicious, authentic New York cheesecake that will really knock your socks off and make you say, "Yum." We can't be held responsible for your inability to keep your diet on track after you try it, but we can tell you that it's a reason worth getting off track if ever there was a good reason.
Start With the Crust
You're going to need the following:
2 cups of graham crackers very finely ground
1 stick of melted butter
1 tsp. cinnamon
Before you put the crust into the pie dish, be sure you take the time to spray the dish with cooking spray to ensure that your crust does not end up sticking to the dish in a way that makes working with it difficult. All you'll do is mix these ingredients together in your pie dish and use a fork to combine them until you have a delicious crust. Then you will take a few minutes to spread it across – evenly – the dish until you have what you need taken care of. It's very simple and very effective.
Then Go with the Filling
For this you will need the following:
32 oz. cream cheese left out at room temp
1 cup of white sugar
4 large eggs
1 cup sour cream
The zest of one lemon
2 tsp vanilla
All you have to do here is beat the cream cheese in a bowl until it is no longer lumpy and then add the sugar a bit at a time. once you have that in there, go ahead and add the eggs. You'll want to do this one at a time while beating, and then add the vanilla, lemon and sour cream. One everything is beat nicely and mixed well, pour it on top of your pie crust.
Now comes the tricky part; the water bath. You'll want to stick your cheesecake dish into a roasting pan filled so that it reaches approximately halfway up the sides of the pie dish. Then you will bake the pie at 300 degrees for an hour and 15 minutes. The next step is to take the cheesecake from the oven and place it in the fridge for a minimum of 4 hours prior to serving.
If you love a topping, add one that's your favorite. If you don't, leave it by itself and everything will still be amazing.
Photo by Andrew Burton/Getty Images