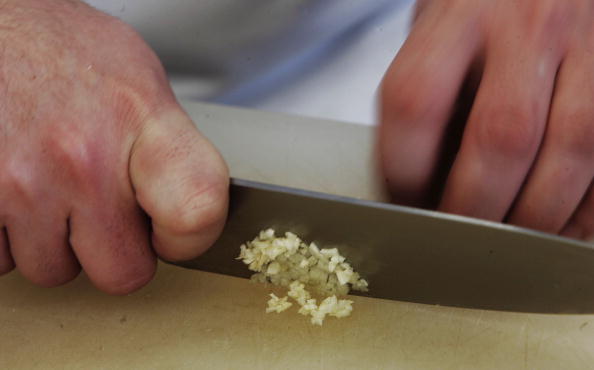 Who doesn't love a delicious garlic knot? Even if you don't think you're a huge fan of garlic, we all know you are a huge fan of these decadent treat. It's bread and garlic and carb-filled goodness that makes us all feel a lot happy, a little guilty and absolutely unwilling to even attempt to put on those skinny jeans. They're so, so good. And we can make them at home. Some of us were completely unaware of the fact that garlic knots are absolutely something that can be made and created at home, with the help of our own two hands and our own appliances. And we have a recipe that is going to knock your socks off and turn you into an addict. I apologize in advance for the fact that your pre-summer bikini body workout is about to become obsolete.
What You Need
Pizza Dough
2 sticks butter
3 tbsp garlic – minced
2 tbsp fresh parsley – chopped
1 tbsp olive oil
Sea salt to taste
¼ cup grated Romano cheese
Go ahead and preheat your oven to 375 degrees. Put your garlic and your butter together in a small sauce pan on low heat and mix them well until the butter melts. You will then cook the mixture about 3 minutes until you can really smell the garlic. Remove it from the heat so that the garlic does not burn at this point.
You now want to roll out your pizza dough onto a lightly floured surface and then cut the pieces into strips about an inch and a half wide. Tie them up loosely into knots and place them on a baking sheet that's been prepared with cooking spray. Give each one about two inches of space and then bake them – after salting each piece – for approximately 20 minutes. Put each knot in a large bowl and add your garlic mixture, your cheese and your parsley to the bowl and shake it all up. Eat and enjoy every last bite.
Photo by Chris Hondros/Getty Images