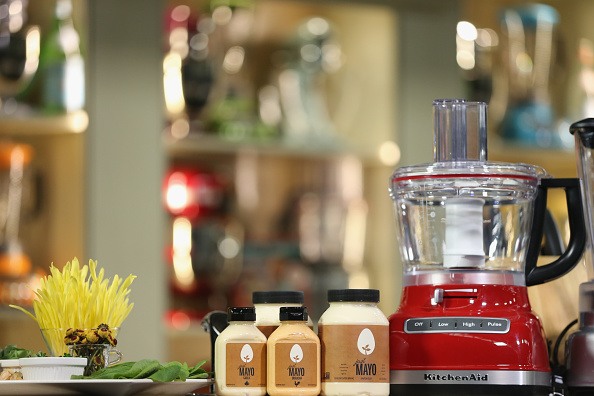 There is just something about banana bread that makes you just want to eat it all day, every day. It's that good. It's so good, in fact, that we cannot get over how good it is. And we love it in our house. With four kids, we like to try and make our meals as healthy as possible, and that includes making things that are delicious and feel like a treat but still include fruits and vegetables. Since our twins just turned one and eat anything at this point, they're good to go. Our almost 7-year-old, on the other hand, is a carb-aholic. If it's made of bread, she's going to eat it. That's why we love banana bread for her. It makes us feel as if she's getting something marginally nutritious when she's carb-ing out. Our 4-year-old prefers to eat fruit and veggies to anything else, so she's always easy. That's why we like to have a little family time making banana bread. It helps us bond. The big girls love to help mix ingredients and we all love to listen to the timer so we know when it's done baking and ready to eat.
What You Need
3 bananas
½ cup veggie oil
1 egg
1 tsp vanilla
1 cup sugar
2 cups flour
1 tsp baking soda
Salt to taste
2 tsp milk
1 cup walnuts, chopped
The first thing you're going to want to do is preheat your oven to 325 degrees and go ahead and use cooking spray to grease a bread pan. You can use butter or shortening or whatever you usually use to grease you pan, but cooking spray is so much faster in my opinion.
The next order of business is to mix together your oil, egg, vanilla, milk, sugar and bananas in a large bowl until it's completely mixed. What we like to do here with the kids is pre-measure all the ingredients so that they can pour them in on their own, and we let them each take a turn mixing and finish it up for them.
Once all of that is mixed, add the rest of your ingredients, saving half the walnuts. Mix it all together and then pour your mixture into your bread pan and add your walnuts to the top. The bake time for this particular loaf is anywhere from 45 to 60 minutes. I suggest you check on the bread at 45 and add a few minutes if you see a need.
It's supposed to cool before serving, but we like to eat ours fresh and warm with a little bit of butter on top so that it's still hot enough to melt it into the bread. Enjoy!
Photo by Neilson Barnard/Getty Images for NYCWFF