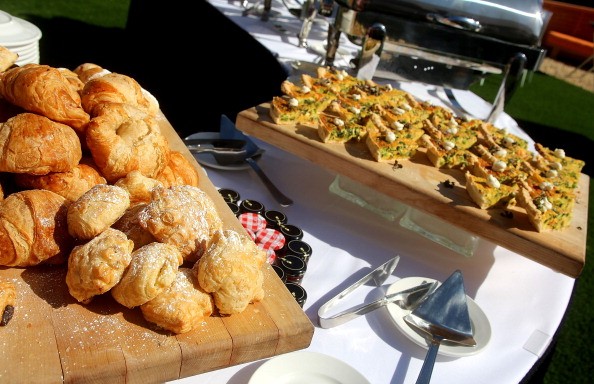 Brunch is the best meal of the week. It encompasses everything from your favorite breakfast foods to your favorite morning cocktails and it's always delicious. If you're planning on hosting a brunch event in the near future, you're going to want to try one of these five decadent – and simple – brunch recipes.
Pancake Skewers
It's simple and it's cute. All you need are cute toothpicks with fun designs on top. Stick them through mini pancakes – the boxed mix that just requires water works just fine – and adorn them with a few blueberries or a strawberry. Set them on a lovely platter and place them on the buffet with decorative containers holding butter and syrup for your guests' enjoyment. It's a simple recipe all dressed up.
Fruit Kabobs
These are so great, healthy and easy. You'll need to pick up your favorite fruit such as strawberries, pineapple, blueberries and grapes as well as a few long wooden skewers. Just wash the fruit and slide them on the skewers. Place them on a fun serving dish with a few small bowls of fruit dip and you have yourself a brunch favorite.
Sausage Casserole
What's great about this brunch recipe is that you can prepare it the night before and pop it into the oven just before your guests arrive. What you'll need is: 1 lb. of sausage, 1 can of crescent rolls, 2 cups shredded cheddar cheese, 4 eggs, ¾ cup milk, salt and pepper to taste, 1 small onion chopped, 1 green bell pepper, chopped. You'll then preheat your oven to 375 degrees. Spray a 9×13 baking pan with Pam, line the crescent rolls along the bottom. Brown your sausage and green pepper and onion and drain it before placing it on top of your crescent roll dough.
In a separate bowl you will want to mix the eggs, milk, salt and pepper and if you want to, add a tablespoon of butter just for good taste. Pour your two cups of cheese on top of the sausage, add the milk and egg mixture and bake it for 30 minutes. You can also cover your dish in the refrigerator and cook it in the morning. Let it cool a few minutes before serving.
French Toast
Everyone needs a little French toast in their lives, especially at a brunch occasion. To make yours, you'll want to start with really good bread. I recommend a nice, thick sourdough from your local bakery. In a bowl, mix three eggs, 3 tablespoons of vanilla extract and a half cup of milk. Fully submerge your bread into the mix and then place it on a griddle or pan on medium heat – spray the pan first. Let it cook for approximately 3-4 minutes on each side before removing. You'll want to cover your toast with syrup and powdered sugar, but these will make nice sides for those who want to serve themselves and avoid soggy bread.
Blueberry Cinnamon Rolls
The great part about this brunch recipe is that it's a bit of a cheat. You don't have to make your cinnamon rolls from scratch. Just buy a package from the store. You'll also want some fresh blueberries. Stick the blueberries inside the dough where it winds its way inward. Bake according to the instructions on the cinnamon roll container and top with your glaze when finished. To make them even more fabulous, stick them on a large white "lollipop" stick. You can find these in the baking section of your local craft store. They're the kind you use for cake pops, and they make eating blueberry cinnamon rolls so much easier and a lot more fun.
(Photo by Rachel Murray/Getty Images for Matrix)