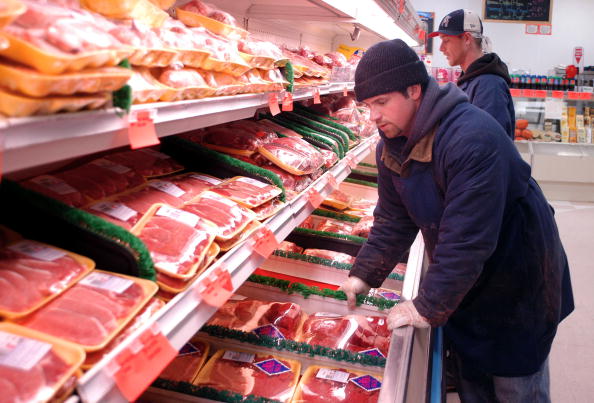 During the holidays we tend to think of things like ham and turkey, and we don't really think much about pork chops. After all, pork chop recipes aren't all that common around the holidays, are they? No, we don't often bust out our favorite pork chop recipes this time of year, but right now we have recipes for pork that can be turned into holiday recipes you can enjoy with your friends, your family and your guests when you are tired of turkey and ham (is that even possible?). Even if you're not tired of those things, you should try a few of these recipes for no other reason than the fact that they're fast and simple, and they're just a little bit different than the recipes you try all the time. Here are five amazing and delicious pork chop recipes that will have you in the mood to make more. Fortunately, they're all easy enough that you can make them whenever you want.
Holiday Cranberry Pork Chops
4 pork loins – boneless
14 oz. cranberry sauce
1 cup French dressing
4 tsp. onion soup mix (dry)
1 tbsp. canola oil
Warm your canola oil on the stove on a medium setting and place the pork in the pan when ready. You'll want to cook the pork on both sides until it is completely cooked through, which can take anywhere from 10 to 15 minutes depending on the heat of your stove and the size of your pork. While this is cooking, you can mix all your other ingredients in a large bowl that is safe to go in the microwave. This is going to be your topping. Mix everything together and place it in the microwave for 2 to 3 minutes until it is hot. You will then pour it over your pork when it is ready to serve; and enjoy.
Pecan Pork Chops
4 pork cutlets
¼ cup hone
¼ cup pecans, chopped
4 tbsp. flour
Salt to taste
Pepper to taste
1 tbsp. butter
Mix your flour with salt and pepper and dust the top of your pork with the mixture. You will then move onto the butter, adding it to a large skillet on the stove. Turn it on to medium and wait for the butter to melt. When melted, add your pork chops to the mixture and cook until they are browned on each side and cooked all the way through. Next, stir your honey and pecans together in a bowl and gently add them to the pan with your pork chops. Let the mixture simmer for about 5 minutes with a lid covering it. Be careful not to remove the lid at any point or you will lose a bit of the flavor. When finished, serve the pork with generous helpings of your topping and enjoy.
Honey Maple Pecan Pork Chops
4 boneless pork chops
½ cup pecans chopped and roasted
½ cup flour
¼ cup honey
¼ cup maple syrup
1/3 cup chicken broth
4 tbsp. butter
2 tbsp. soy sauce
Salt and pepper (to taste)
Start with a little bowl and your honey, maple syrup, broth and soy sauce. Mix them all together well. When you have this mixture taken care of, add your pecans, mix them in and set everything to the side.
Next, move on to a small dish that's not deep. Add your flour and salt and pepper and mix together. You will want to melt some butter in a skillet on the stove, which should be heated to medium. You will place your pork in the flour mixture and then directly into your skillet. Cook the pork until it is cooked well on both sides and all the way through before taking them out of the pan and putting them on the plate on which they will be served. Turn down the heat so that it's low. Wait a few minutes for things to cool a bit and then add your honey and syrup mixture to the pan. You'll want to stir this mixture continuously until it's hot and then pour it on top of your pork chops and serve. You'll enjoy this delicious meal.
Cranberry Stuffed Pork Loin
27 oz pork loin
2 cups dry cranberries
1 box premade stuffing
2 tbsp. extra virgin olive oil
3 cups walnuts, chopped
2 tbsp. butter
Make sure your pork loin is tender and it has been thinned nicely. You can do this yourself by using some saran wrap on top of your meat and then tenderizing it yourself unit it is thin and ready to go. You will then add your butter, melted, to the meat evenly.
Cook your stuffing according to the ingredients on the box and then set it aside. In a large bowl, add all your other ingredients together and mix them well.  Add your stuffing to this mixture and mix it well, also. When you finish with that, simply spoon it onto your meat and then roll up the meat tightly. You will then cook the meat in the oven at 350 degrees for approximately 60 minutes, or until the internal temperature of the pork is above 160 degrees. You will want to let this cool before you serve it to your family and/or guests; 15 minutes should do the trick.
Crock Pot Pork Chops
4 pork chops with bones
1 package of onion soup mix
1 package dry gravy mix
1 can chicken soup
1 cup chicken broth
Salt, pepper and garlic powder to taste
Bust out the crock pot and place everything inside of it, starting with your pork and moving on from there. Once everything is in the crock pot, go ahead and turn it on to low and allow it to cook for 6 to 8 hours. Any longer than that and things will certainly dry out a bit. Do not open the crock pot at any point when you are cooking or you will cause the cooking process to take even longer. When it's been 6 to 8 hours, simply remove the pork and serve it up in all its deliciousness.
Photo by William Thomas Cain/Getty Images