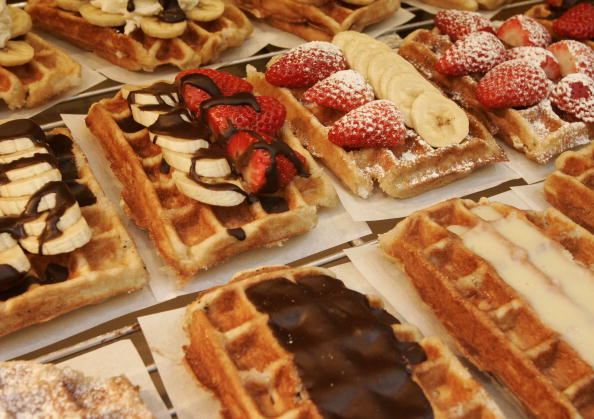 Toss a little pumpkin or some apple into anything you eat and call it a fall meal; it's what we do this time of year. Those of us who don't cook suddenly become baking fools, professional chefs and all-things-pumpkin and/or apple experts. If it smells like an apple, looks like a pumpkin and goes straight to your hips; it's a fall recipe. Now that fall is here, the temperature is cooling off and we have so much to be thankful for, it's time to bust out the waffle maker and the Bisquick and turn our every day waffle recipe into something fall appropriate for our next weekend breakfast: Apple Cinnamon Waffles and Cider Syrup. Your friends and family will think you went all professional chef of them – they don't have to know it's a Bisquick mix!
Ingredients to Have for the Cider Syrup
¼ cup butter
1 tsp. cinnamon (ground)
3 tbsp Bisquick
1 cup white sugar
2 cups apple cider
2 tbsp lemon juice
Ingredients to Have for Waffles
2 ¼ cups Bisquick
1 ¼ white milk
2 tbsp sugar
2 tbsp veggie oil
1 egg
1 tsp cinnamon
½ cup peeled and finely chopped apple
To Cook  
Toss everything you need to make your cider EXCEPT for the butter into a 2 quart sauce pan and turn the heat on medium. Let everything cook until it thickens, and be sure you stir your cider constantly or nothing will turn out the way you want. When it's finished, remove it from the heat and stir in the butter. Cover your dish and move onto your waffle making.
You'll just need to spray your waffle maker with nonstick cooking oil to start. From there, mix all your ingredients into a big bowl except for your apples. Wait until everything is mixed well and then add your apples. Pour your batter (check your waffle maker for specific instructions as to how much batter to use) into your waffle maker and close the lid. Cook it until it is done, remove it, pour your cider on top and enjoy your waffles!
For a really indulgent morning breakfast, add some whipped cream and a little bit of pumpkin spice to the top of your waffles, heat some maple syrup and add just a touch of that to your cider. You're not going to fit into your jeans when breakfast is over, but I assure you it's worth the sacrifice for these delish waffles.
Photo By Mark Renders/Getty Images