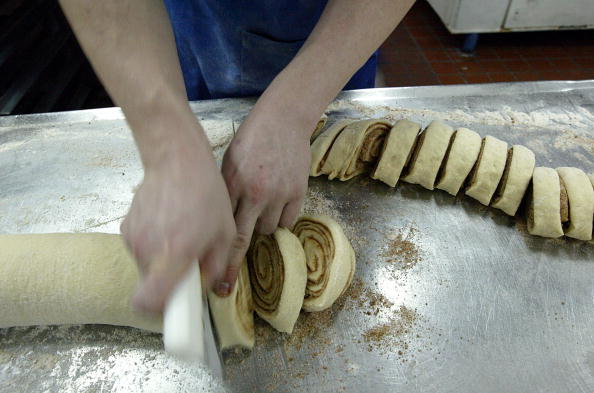 The holiday season is upon us, and that means we all want to get into the kitchen and start baking. One of our favorites is a big Sunday morning breakfast. It's so much fun to wake up before you head out to church, or to spend the day with family or simply to relax to get up and spend a little time in the kitchen with the family. And nothing says holiday cheer and family togetherness quite like our amazing cinnamon roll pancake recipe. Not only is it decadent, delicious and completely awful for you in an amazing way, it's also quick and easy.
You don't have to worry about spending hours working on breakfast when this only takes about 10 minutes to prep and a few minutes to cook. Get your pencils out (or screen shot this for later) so that you can make your grocery list for the perfect cinnamon roll pancakes to share with your family this holiday season.
What You Need for the Pancakes
1 cup flour
1 cup milk
1 large egg, beaten
1 tbsp vegetable oil
2 tsp baking powder
Salt to taste
What You Need for the Filling
Half stick butter
¼ cup brown sugar and an additional 2 tbsp. brown sugar
2 tbsp. Ground cinnamon
What You Need for the Glaze
Half stick butter
2 oz cream cheese
¾ powder sugar
½ tsp vanilla
How to Prep Recipe
Get three bowls and start your work. Start with your cinnamon recipe. Just melt your butter and mix it with the rest of your ingredients and set it aside. Next, work on the glaze. You'll want to cook the butter on low in a small sauce pan just until it melts then you'll mix in the cream cheese until everything is smooth and silky. From there, add your powdered sugar and vanilla, mix well and set to the side.
For the pancakes, mix everything together and prep your cooking surface. You'll want to spray your pan or griddle with nonstick cooking spray, and you'll want to use a medium heat. Using an ice cream scoop, put your batter on the griddle in small circles to make your pancakes. Sprinkle some cinnamon mixture onto the batter using a spoon and create a cinnamon roll-like circle. Let it cook the same way you would any pancake, and then flip. When it's done, pile it on a plate with more and add some glaze to the top and enjoy.
Photo by Justin Sullivan/Getty Images