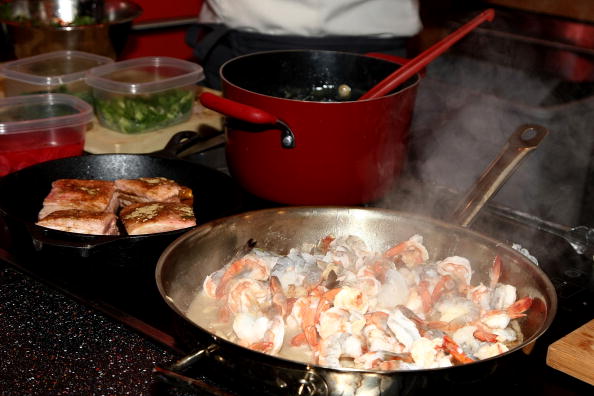 Who doesn't love bang bang shrimp? No one with any taste, that's for certain. If you, like most people, love shrimp, you're going to love this bang bang shrimp recipe. It's the kind of recipe you can take with you anywhere you go to ensure that you're dish is the hit of the party. You can serve it for dinner, make it as a side dish for a party or just bring it with you if you want to impress someone you just met. It's time to get to the store, get these ingredients and get to cooking this spicy bang bang shrimp dish.
Preparation
You will need to spend about 40 minutes on this particular dish. You will need to spend about 20 minutes prepping this dish and another 20 minutes cooking it. You'll need the following ingredients for the sauce:
½ cup mayonnaise
1 tbs + 1 tsp. chili sauce (Asian Style)
2 tsp honey
Salt to taste
For the shrimp you will need the following ingredients:
Vegetable oil
2 eggs
¾ cup flour
½ cup starch
Salt and pepper
1 ½ lbs. shrimp (Deveined and Peeled)
Lettuce or romaine leaves
Scallions
To Make
Start with your sauce. Mix all of the ingredients into a large bowl and set it aside while you prepare your shrimp. To prepare your shrimp you will need to heat vegetable oil in a pan on the stove. You'll want to have about 2 inches of oil in the pan. While this is heating on medium heat, whisk your two eggs in a bowl. In a second bowl, mix your cornstarch, flour, salt and pepper.
Work on your shrimp by placing it into your flour mixture, then your egg mixture, and then back into your flour mixture. Place the shrimp into the frying oil for one to two minutes or until the shrimp turn a golden brown. Use a slotted spoon to remove the shrimp from the oil and place it on top of a paper towel lined-bowl. Wait for it to cool before tossing your shrimp in your homemade sauce and serving.
(Photo by Alberto E. Rodriguez/Getty Images)