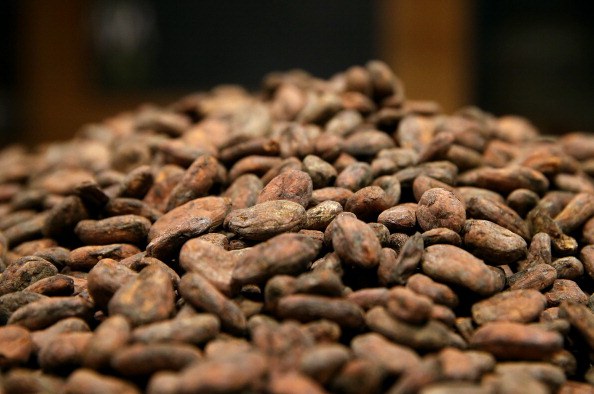 They say dark chocolate is actually quite good for you – in moderation, of course. I choose to pointedly ignore the rules that the news and the health officials of the world like to give on television and in articles and focus on one small aspect of this particular news story; dark chocolate is good for you. Since I workout and eat an overall healthy diet, I feel that I can eat as much dark chocolate as I'd like during a very particular week every month, and I refuse to feel guilty about that. With that said, I'd like to share my favorite dark chocolate recipes with you. They'll make you feel good. They'll make you feel amazing. They'll change your life. You are welcome.
3 –Ingredient Almond Clusters
All you need is a teaspoon of coarse sea salt, 12 ounces of almond bark and 2 cups of whole almonds. What you'll do is chop the almond bark chocolate and microwave it in a microwave-safe bowl on medium heat for approximately 2 minutes. Remove the chocolate every 30 seconds to stir. From there all you will do is add your salt and your almonds and mix it all together very well. When this is done, you will then take the mixture and drop it onto a piece of parchment paper that's already on a baking sheet. Each drop should be around 1-inch. When done, put the pan in the fridge and let them cool completely, and then enjoy.
Dark Chocolate Dipped Bacon
I will not lie to you. This is going to change your life forever. After recently being invited to a bacon-themed party, I was excited to try this dish. Everything at the party was bacon-centered. Bacon wrapped scallops, bacon wrapped filets, jalapeno poppers wrapped in bacon; and bacon dipped in dark chocolate for dessert. Literally, all you have to do is find your favorite dark chocolate, make some nice, crispy applewood smoked bacon (maple bacon is amazing with this one, too) and dip the cooled bacon into the melted chocolate. Let it sit on some parchment paper until it's set and then enjoy. You'll feel as if you've gone to Heaven before your time.
Dark Chocolate Oreo Pie
It really does not get any easier than a recipe that only requires five ingredients, like this one. What you need is a package of oreos, a cup of butter, 2/3 cup brown sugar, 1 ¼ cup heavy whipping cream and a 12 ounce package of dark chocolate chips. You'll start by putting the oreos in the food processor to crush them into oblivion. You'll then melt 8 tablespoons of your butter (half a cup) and mix it with the oreos. This is going to be your pie crust, so it will be flaky and needs to be packed down into the bottom of a pie dish. When you've gotten this handled, stick it in the freezer for about 10 minutes and let it cool while you move on.
The next process is simple. You'll take the rest of your butter and put it in a small saucepan with your brown sugar. You want low heat, and you must stir the entire time. When it becomes bubbly in the pan, remove it from the heat and ¼ cup of your whipping cream to the mixture and then cool it for about 15 minutes. When it's cool, pour the mixture over the oreo crust and put everything back in the freezer. Now you will put the rest of your whipping cream in a saucepan and simmer over medium heat before removing it from the heat and pouring it into a bowl over your dark chocolate chips. After this has had time to sit for a few minutes and melt the chips, whisk the mixture until it's smooth. Now pour it over your pie and let it freeze for another 30 minutes before you enjoy it's decadence – but not until you add just a touch of coarse sea salt to the top of your mixture.
Dark Chocolate Oatmeal
This is an amazing recipe that kind of counts as breakfast, so we thought we'd include it in here. This is the easiest recipe you'll ever encounter. Find a big bowl. Mix together a half cup of old fashioned oats, a half cup of extra dark chocolate soy milk, a tablespoon of dark chocolate chopped into fine pieces and a few chopped raw almonds. Mix everything together and put it into a container with a lid. Stick this container in the fridge overnight and eat it in the morning. It's your breakfast; and it's chocolate. You're welcome.
Chocolate Covered Strawberries
All you need for this is dark chocolate and your favorite strawberries. Melt your chocolate in a microwave-safe bowl for 2 minutes. You'll want to stir the mixture every 30 seconds until it is amazingly creamy, and then dip your cleaned and dried strawberries into the chocolate. Let them cool and dry on a piece of parchment paper and then enjoy. This might be the best dish you'll ever have.
Dark Chocolate Tart
To make this recipe, you will need 9 chocolate graham crackers, 5 tbsp butter and a quarter cup white sugar to make your crust. Mix everything so that it's fine and powdery and then add your melted butter. Press down into the bottom and along the edges of a pie plate, and leave it be. Next you'll want to boil 1 ¼ cup heavy cream until it's nice and warm, and then you will pour it over 8 ounces of finely chopped chocolate. It'll need to set for about 5 minutes before you do anything else. The following step involves adding 2 eggs, a teaspoon of vanilla extract and salt to taste to a small bowl and whisking it all together. You'll then pour it into the chocolate and mix it all.
Pour the chocolate into the crust and bake the dish for approximately 22 minutes at 350 degrees and let the pie cool for one hour. Serve it as is or add a little bit of whipped cream to the top to make it just a little bit more decadent.
Dark Chocolate Hot Chocolate
This is an easy recipe that takes only a few minutes. Start with a medium sauce pan that's on a medium setting on the stove. Add 1 ½ cups of cold milk, a half cup of heavy cream, 2 teaspoons of powdered sugar and a half teaspoon of espresso powder together in the pan and whisk continuously. You'll do this until you are able to see small bubbles around the edge, and that's your cue to stop. You do not want to see it boil. When done, remove the mixture from the heat and stir 8 ounces of bittersweet chocolate – chopped – to the mixture until it's creamy. Add a little whipped cream to the top and have yourself the time of your life.
Dark Chocolate Truffles
Start with 10 ounces of dark chocolate and chop it into as many small pieces as you possibly can, placing it to the side when you are finished. Then you will add 2/3 cup heavy cream and 5 tablespoons of unsalted butter to a small saucepan on medium heat and let it melt together. It needs to simmer, but not any warmer than that before you remove it from the stove and pour it over your chocolate. Stir the chocolate mixture until it's completely melted and then add a quarter cup grand marnier. You'll want to then put the mixture in the fridge for approximately two hours while it cools. When it's cooled, you'll use a small melon scoop to make small balls from the mixture. Dip this into melted semisweet chocolate, add some chocolate sprinkles and then put the mixture back into the fridge. When cooled, enjoy as many as you can at one time.
Dark Chocolate Covered Banana Bites
This is a simple and actually not-too-bad for you recipe. You'll want to start off with some ripe bananas, your favorite smooth peanut butter and some dark chocolate. Cut your bananas into thin slices and put peanut butter on the top of half, and then make sandwiches out of them with the remaining bananas. Then dip them into melted chocolate, let them harden and cool on a piece of parchment paper and enjoy. They're really good cold, too.
Dark Chocolate Chip Cookies
My grandmother made the best chocolate chip cookies, and I always use her recipe. It's not difficult, and it's very similar to the Nestle recipe, but just a little better. And I like to add dark chocolate chunks to mine to make them even more delicious. You'll start by mixing ¾ cup white sugar with ¾ cup brown sugar (packed) and one stick of shortening until it's smooth. Next you will add 2 large eggs, a tablespoon of vanilla extract, a teaspoon of baking soda and a pinch of salt. Mix it all together. Then add 2 ¼ cups flour. Mix it until the dough is formed. I then pour a half bag of semisweet chocolate chips into the mixture and stir. Finally, I chop a dark chocolate bar into nice size pieces and add it to the mixture. I bake on a nonstick pan for 8-9 minutes (I like them just slightly doughy) before removing them, letting them cool on the pan for a minute or so and then placing the cookies onto my cookie rack. Eat them while they are warm; you will not regret this.
Photo by Justin Sullivan/Getty Images