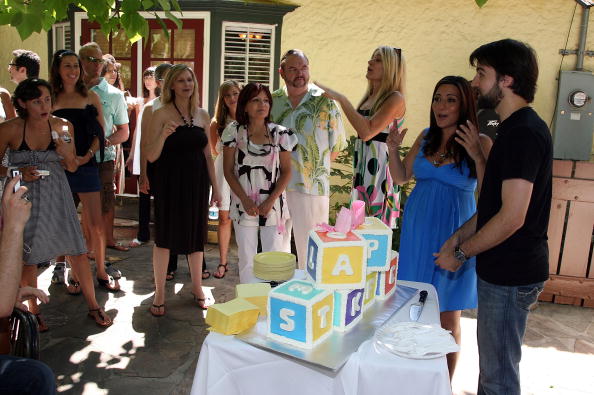 The only thing more exciting about a baby shower than the impending arrival of a sweet new baby (or babies) is the cake. Cake is the equivalent of universal happiness; and baby shower cakes are the cutest and most delicious. As a friend of the mommy-to-be, make sure she's in love with her baby shower cake by using one of these five great cake concepts – or even just a piece of this one or that one to create a unique cake that will blow her socks off (which is always good since she probably can't reach them to take them off on her own).
Different Flavors
A cute idea for a baby shower cake that will please everyone is all in the flavor. When using a multi-layer cake, opt to have each layer a different flavor. For example, make the bottom layer a standard white cake, the middle a chocolate and the top a decadent strawberry – or any of the mommy-to-be's favorite flavors. It's a little something for everyone.
Different Colors
If you know the sex of the baby or babies of honor, opt for cake that matches on the inside as well as the outside. The best way to go about this is by dying white cake with pink or blue (or pink and blue for boy/girl twins) so that when guests cut into the cake they see the coordinating color of the baby shower. It's cute, simple and special.
Cupcakes
No one said you have to do a big, fancy cake at a baby shower. Sometimes it's much easier and more adorable to go the route of cupcakes. They're easy to serve since there isn't any cutting involved, and they're a bit more portion controlled. You can also decorate each one differently to create a look that's incredibly cute and still simple.
Shaped Cake
Instead of a traditional sheet cake or three-tier cake, try ordering or making one that takes on a different shape. For example, a great baker can create a cake that looks like the bust and stomach of the expectant mother, or even one that's shaped like a baby lying on his or her tummy with that adorable baby bottom in the air. People will love that the cake isn't typical.
Mini Cakes
This is one of the all time best cake ideas for any baby shower. If you're having a large event with multiple tables, consider doing mini cakes and let them double as a centerpiece as well. One simple cake elaborately decorated to place at the center of each table is a fantastic idea. Each one can be a different color, different theme and different design. It's a surefire way to impress the guest of honor and her friends and family.
(Photo by Frazer Harrison/Getty Images)