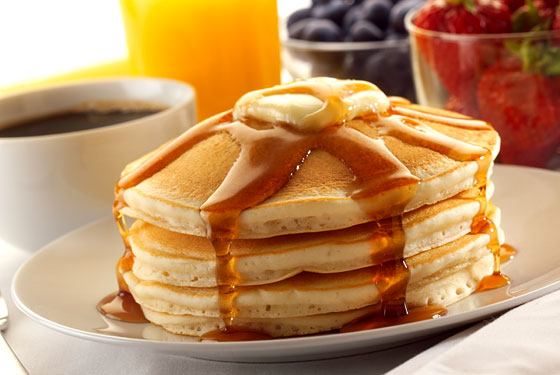 Comfort food (n.) – anything grandma makes. Go ahead and laugh, but comfort food is seriously what grandma makes. It's the cookies, the spaghetti (most lovingly referred to as "Buh-sketti" for many years) and it's the pancakes. It's sleepovers at her house, late nights eating cooking and playing scrabble, taking long walks and discovering which of her flowers in her beautiful garden were the best ones. It's long-ago stories about my grandfather I struggle to remember, tales of my dad's childhood and making memories with one of the most important women in my life. And it's the inspiration that is this woman who is so important to me, so beautiful and so impressive even well into her 90s as she runs circles around the rest of us with her young heart and her soul filled with energy. But most of all – comfort food is defined as grandma's pancakes. The old-fashioned pancakes she made from a recipe she grew up with and made for us on mornings we woke up at her house. That's comfort food. And comfort food makes people happy; so let me share with you that amazing recipe.
What You Need
1.5 cups flour
1 ¼ cup milk
3 tbsp melted butter
1 tbsp sugar
1 egg
3 tsp baking powder
1 tsp vanilla
Salt to taste
Start by mixing all your dry ingredients in a bowl and then adding your wet ingredients to the mixture and stirring completely. Now take a ¼ cup measuring cup and pour circles onto a skillet set to medium heat. When bubbles begin forming on top of the pancakes, flip them over and give them a few seconds to brown completely.
Remove them from the heat, add your favorite butter to the top of your pancakes and then load them with your favorite toppings. You can use syrup, fruit, whipped cream, chocolate chips; whatever you like on top of your pancakes. Just know that you will not be able to get enough no matter how hard you try.
Photo by Getty Images