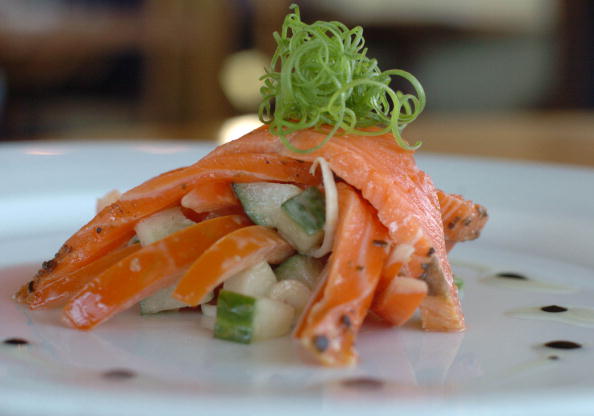 You are what you eat, so most of us probably have a lot of desire to be cheap and easy. Okay, so we don't really want to be cheap and easy, but we want our healthy, delicious and amazing dinner recipes to be cheap and easy. As a mother of four small kids, a full time work-from-home job, a wife, a volunteer and the coordinator of a very active social life, I can say with certainty that my life is not easy all the time. Sure, I have little to complain about (nothing, really), but I don't exactly have much free time, and that makes feeding my little (ha…huge) family health meals so that we all stay healthy, energized and happy a bit difficult.
Take this time of year, for example; right now my life consists of getting my kids up and to school by 9 am, and then picking them up again at 3:30. My 19-month-old twins are home with me while I work all day long, I have 45 minutes after we get home in the afternoons to help my kids with their homework and feed them snacks before it's time to take my oldest daughter to cheer practice the second my husband walks through the door. We aren't home until 8:30 pm, and that's when we eat, bathe and finish homework on heavy load days. Cooking a meal when I get home is not an option for me.
Thankfully, my husband is home with the other three kids. However, even he is unable to cook a full meal. He's spending quality time with the other three by trying to get them outside to play in the fresh air, by giving three kids baths and preparing dinner for the babies, and by getting the house in order. He gets lunches prepared for our school kids for the next day, checks homework, signs parent folder, does laundry and puts the twins to bed. Then he has about 30 minutes to cook something before we get home so we (He and I and our two oldest kids) can eat dinner together. It's always quick, and fast – and we would prefer it's cheap since we do have four kids to one day send to college.
Our life is hectic and we are sometimes a little stressed, but we also recognize that eating well is what makes the big difference. On nights that we're just too tired to bother, we will run through a drive-thru. Those are the nights not one of us feels well; our bodies know we are missing out on the nutrients we need from veggies, fruit and other healthy foods – and they often turn on us when we eat food that's not that good for us (not to say we don't love to indulge from time to time).
For us, it is so important to eat a healthy diet on a regular basis. We feel better. We sleep better. We have more energy. With as much as we have to do, and as crazy as our schedule really is, this is what makes the difference to us. Something that we really love to do is eat pasta, but make it healthy. We also love to make our meals without starches. It's not because we don't love potatoes and rice; but we prefer vegetables and other sides.
It's something we have learned to do over the course of our adult lives; substitute the things that make us feel tired and less than amazing with things that make us feel better. When we leave the table saying, "That was amazing and healthy," we feel so much better as a whole. It's amazing what can happen when you learn how to make a delicious meal that's affordable and so flavorful that you'd never believe it's actually pretty healthy. Most of our food is pretty fresh, which means numerous trips to the store throughout the week, but much better moods and attitudes.
We love to eat well, but we also like to eat meals that are quick and easy, and that's why I'm sharing some of my favorite fast, cheap, easy but still healthy meals with you. This time of year is crazy busy in general, and I want to help out in any way that I can. And please, feel free to share your own quick, easy and deliciously inexpensive dinner ideas with me, too.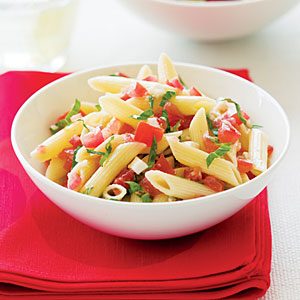 Tomato and Basil Pasta
Ingredients:
1 box pasta (bowtie pasta makes this meal so pretty)
6 cloves fresh garlic
½ package cherry tomatoes
Olive oil
Salt
Fresh parmesan cheese
Fresh basil
The pasta is the easy part; just follow the cooking instructions on the box so that I don't have to tell you to boil water and then boil pasta for so many minutes. While that's cooking, go ahead and get out a frying pan, add just enough olive oil to generously coat the bottom of the pan and then begin chopping your veggies. You'll want to finely chop your garlic, and then add it to the pan. You will then cut the tomatoes in half and add them to the pan. Add a little salt, and put the pan on the stove on low heat. You want the contents to simmer, but not burn. Garlic is very sensitive, so go ahead and mix it around as it simmers. Give it 5 minutes to simmer and then remove it from the heat. Drain your finished pasta, put it in a large bowl and add your garlic and tomato mixture. Mix everything together well.
Next, cut your basil into small pieces and top the pasta mixture with it, mixing it well. Add fresh parmesan cheese to the top, and serve your meal. It's amazing when it's hot or cold, so you can save what's left for the next day, too.
Garlic Chicken Pasta
Ingredients:
1 package boneless chicken strips
1 box pasta
Olive oil
Panko bread crumbs
½ package cherry tomatoes
5 cloves fresh garlic
Fresh parmesan cheese
Feta cheese
Start by making your pasta according to the box. Now you will take it upon yourself to lightly pour olive oil on your chicken and cover each small piece with a bit of your Panko bread crumbs. Place your chicken into a pan with just a bit of hot oil and allow it to cook all the way through. The crumbs should be perfectly browned and the chicken cooked perfectly when done. I'm working on the assumption you know how to cook chicken and can time this one for yourself.
Next, cut your tomatoes in half, chop your garlic and add both to a small pan of olive oil and salt. Let simmer for about five minutes before removing from heat. Once your chicken is finished, cut it into small pieces and then mix all your ingredients together, top them with fresh parmesan and feta cheeses and enjoy. This is a really simple meal with really big flavor.
Tennessee Chicken
Ingredients:
1 package boneless, skinless chicken breasts
1 can fat free cream of mushroom soup
1 can fat free cream of chicken soup
1 block cream cheese (I prefer the 1/3 fat cheese)
1 package fresh mushrooms
1 box pasta
It's called Tennessee chicken for a reason. Every summer, my husband and I and a group of our best friends and family – and all our kids – get together and rent a few houses along Norris Lake in Tennessee. It's just about an hour north of Knoxville, but the lake is amazing. Being from Florida, we like it because it's fresh and clean and clear and amazing. Our fresh water is amazing, too, but it's also filled with alligators, so we try to swim only in the springs and we cannot take our boats out in the lakes going too fast because of the manatees.
Anyway, we trailer our boats up there, we rent these amazing houses on the water, dock the boats and we spend all day every day in the water. We water ski, we take these insane tubes out on the water and get crazy, we float, we wakeboard, we swim, we sun, we drink, we cook, we have fun. We pack only swimsuits and pajamas and we have the best time. We each take turns cooking a meal each night in our houses, and this is one that we cook up there every year because it's easy. And it got the name Tennessee since we eat it there, and that's what it reminds us of anytime we have it.
Admittedly, this is not the most amazingly healthy meal that I've ever cooked. However, it's delicious, it's cheap and it's really easy to make. It's a crock pot meal great for cold days and busy evenings because it includes some fresh veggies and it does feel like a complete meal. All you have to do in the morning is toss everything but your pasta and fresh mushrooms into the crock pot and turn it on low until you get home (at least 8 hours). Add the fresh mushrooms for the last hour, cook your pasta according to the instructions on the box.
You're going to put your pasta in a bowl, top it with the crock pot chicken (which should shred beautifully) and serve your meal with a gorgeous salad of your choice. I'm a huge fan of just mixing a little arugula with some cucumbers, cherry tomatoes, mandarin oranges, craisins and some balsamic vinegar. Top the pasta with a bit of fresh parmesan cheese and you've got yourself the quintessential fall meal.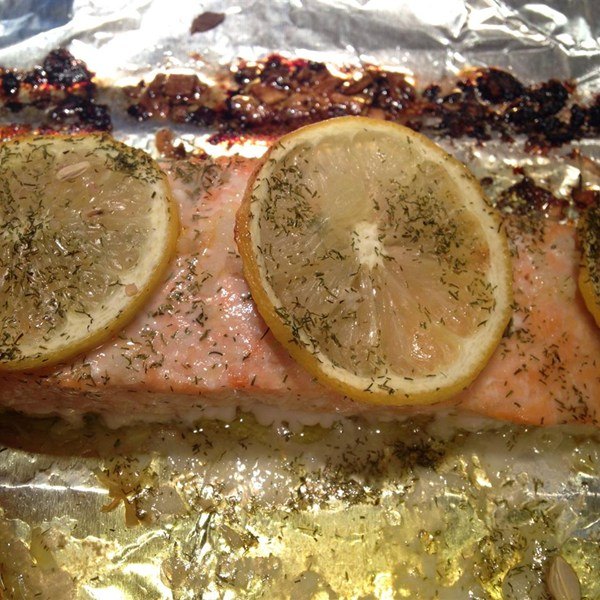 Lemon Butter Salmon
Ingredients:
2 cuts fresh salmon
1 lemon
Salt and pepper
Fresh oregano
¼ cup butter
This is one of our favorite meals, and it's so good for us. We love this one when salmon is on sale. We've learned that portion control is so important to us, so we usually just get one pound of fresh salmon for us, cut it in half and bake it. Then we cut each piece if half again since it's too much for each of us and give the other half of ours to our older girls. To make this meal, just put a large piece of foil on the counter for each piece of salmon. Cut your lemon into four slices and put two on each piece of foil. Place the salmon on top of the foil, drizzle just a bit of olive oil on top, salt it and pepper it, add a little fresh oregano to the top and then cut just a tiny sliver of butter and put it on top of each piece of salmon. Now, fold the foil so that it covers your salmon and bake it for 25 minutes at 375 degrees.
It's perfect when it's done. We love to serve this meal with a fresh salad and some baked broccoli as a meal. To make our delicious and famous broccoli, just cut the fresh florets into a baking dish, add some olive oil, salt and pepper and then add some fresh garlic salt to the top. Bake it for 25 minutes alongside your salmon and call it a day. It's so healthy, so filling and absolutely perfect with a glass of sauvignon blanc.
Fresh Pizza
Ingredients:
Whatever you darn well please.
Will you think less of me when I tell you that I'm not a huge pizza fan? It's true; I'm just not. I do, however, love and adore the pizza that my husband makes from scratch(ish). He buys fresh dough from our favorite bakery, adds olive oil to the top and then adds his favorite ingredients to the top, and it is always amazing. We like to forgo sauce and add a little fresh parmesan, some green and red bell pepper, some onion, some pineapple and even some green onion to the top and bake it according to the instructions on the dough. It's so good, and it's such a personal meal. And did I mention that the dough is all of $2.49? It's such a good meal that you can even turn it into dessert by putting some pineapple and a little cinnamon sugar (or apples with cinnamon or pears with cinnamon) and baking that? Yeah, it's good stuff.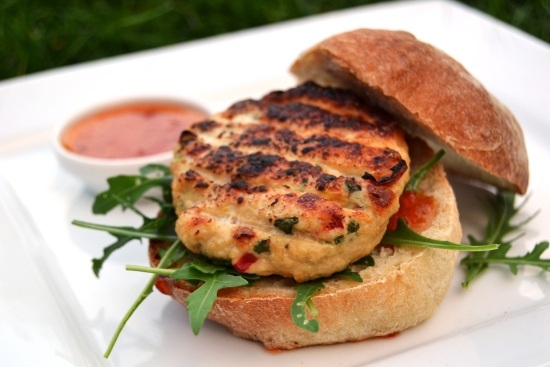 Craig's Famous Turkey Burgers
Ingredients:
Ground Turkey (1 pound tends to make about 4-5 burgers for us)
1 red bell pepper
1 green bell pepper
1 clove fresh garlic
Olive oil
Pineapple slices
1 onion finely chopped
2 tbsp. Worcestershire sauce
Fresh Bakery rolls – not regular hamburger buns (because, yuck)
I'll start by telling you that Craig is my husband – and he is a phenomenal chef. He's actually a banker, but he's such a good cook and he loves to do it (thank goodness, otherwise we'd probably starve to death). He kind of sort of stole this recipe from some Food Network show a few years ago. What we do is sit around drinking our coffee on Sunday mornings before church watching Food Network and planning our grocery list. He saw this recipe – or something similar to it – and decided to try. He made it his own, and I cannot tell you how often people call us and ask when they're invited over for Craig's famous turkey burgers again. It's that good. And you can make it a little healthier by skipping the bread and eating it with lettuce.
Start by cutting your garlic and onion, placing it in a large bowl and adding the turkey. Now add some olive oil – not too much – and your Worcestershire sauce. You're going to form your burgers now. Place them on a pan and get to chopping your peppers. You want them to be large pieces that are still round, so cut them in that manner. They should look like onion rings, but peppers.
Put your burgers on the grill. And let them cook on one side. While they are cooking on one side, add your rounded pineapple slices to the top and push them in just a bit so that they don't fall out. You can, if you want, add some toothpicks to keep them in (just remember to remove them before you take a big bite!). When you flip them over to finish cooking them, add your peppers to the grill to give them just a bit of a char on each side. When those are done, remove them.
Next, add just a bit of mustard to your bun, your turkey burger, and a few slices of pepper. Eat it; it's amazing. We love to serve this with salad – a fresh strawberry and orange salad makes a great addition to this meal. It's perfect for summer in every way, if you ask us. The flavor is to-die-for. And it takes less than a half hour from start to finish to make this meal.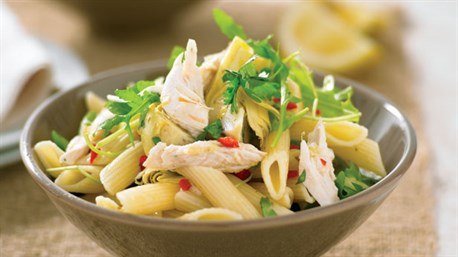 Lemon Chicken Pasta
Ingredients:
Thin boneless, skinless chicken
Lemon
Olive oil
Garlic
Cherry Tomatoes
Basil
If you have 30 minutes, you can eat this amazing meal that's so good and so tasty that everyone will love it. Did we mention it makes a ton of food and it's not even remotely expensive? I love this meal because I can make it for my family of six in a half hour or less, and I can buy all the ingredients I need for it for under $20. That's a pretty amazing meal considering the fact that I can't even get out of Starbucks for under $20 with them and they don't even drink coffee (ridiculous, right?). The first thing you're doing with this recipe is cutting your garlic into small pieces. I like to take a clove, smash it and take four or five of the smaller cloves from within to use for this meal.
Once those are cut, cut your lemon into large rounded pieces. I also like the idea of cutting my cherry tomatoes in half, but you don't have to if you're not into that. I use probably 15 cherry tomatoes for this meal since I do cut them in half. While you are finishing this up, add some water to a pot and cook your pasta the way that is recommended on the box.
The next step is to add just a little olive oil to a pan. You're going to want to cover the bottom and add just a little bit more to make it a little bit thick. Let it warm up on medium heat and then add your chicken. You want the chicken to cook all the way through on both sides, and that should only take a few minutes since you are using such thin chicken. Don't forget to salt and pepper both sides. When the chicken is almost done cooking on the second size, go ahead and add your tomatoes and your garlic to the mixture, turning down the heat so that it's only simmering. You have to be very, very careful not to burn the garlic. Not only is the smell unpleasant, the taste is pretty bad, too.
When the tomatoes are a bit soft, toss in your lemon and mix it all together well. Now you will chop your basil. I like fresh basil. I'd actually recommend never using the pre-made and bottled stuff; just the fresh stuff. Add it into the mixture and let it get just a little bit soft. If you feel particularly daring, add a tiny pat of butter to the dish and let it melt to make the sauce just a tiny bit creamier.
Now take your lemon slices out of the pan. Drain your finished pasta and place your chicken on top, pouring some of the topping on that to finish up your meal. It's all your main dishes in one, and it's so good and flavorful. I promise you that this will become one of those weekly staples in your household.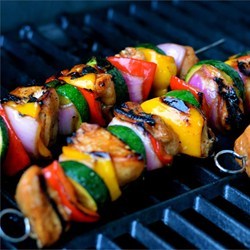 Kabobs
Ingredients:
Chicken or shrimp (boneless/deveined)
2 green bell peppers
2 red bell peppers
1 large yellow onion
1 pineapple
Kabob skewers
So simple and so easy, I love this meal in my house for so many reasons. The biggest reason is that my kids think it's fun to eat food on a spear. It's only a close second that it's easy to cut the veggies and the chicken in advance, put them away and then make my kabobs later. It's also nice that they can be baked or my husband can toss them on the grill on the back deck while the kids run around and have a good old time out there together. This is one of those meals we like to make when we have little time, but we want to enjoy it. We'll pour a glass of white or grab a beer and head outside so that we can sit on the deck while the kids chase one another around and probably irritate the neighbors who cannot see our house, are nowhere near our house, but who like to call the HOA and complain that when we cleared our property we took down some of the trees in OUR yard that they felt gave THEM privacy. Gotta love people, right?
If you're pressed for time, allow me to suggest that you take the ingredients in this meal and you cut them up the night before and put them in the fridge. Additionally, if you plan on using wooden skewers, you will need to put them in water for a few hours before you grill them or risk them catching on fire. Since the fire department is not on the guest list for tonight's cheap and affordable dinner, we really, really suggest you do not skip this particular step.
Cube your chicken or do nothing to your shrimp (or use both at the same time!) and cut your veggies into small slices. Alternate items on your skewers, drizzle them with olive oil and salt and pepper and head to the grill. You need to cook the chicken and shrimp all the way through, and then you need to just sit back and enjoy this meal. It's amazing. We love it paired with fresh veggies such as corn on the cob, edamame (I'm going to give you my favorite edamame recipe at the end of this post because we eat it probably 3 times a week with the meals listed here; it's that good) or a delicious summer salad.
If you're feeling daring, go ahead and make a few kabobs that have nothing but pineapple on them. Add cinnamon and sugar, grill them for a few minutes and then enjoy them like tey are your dessert. It really does not get any better than this one.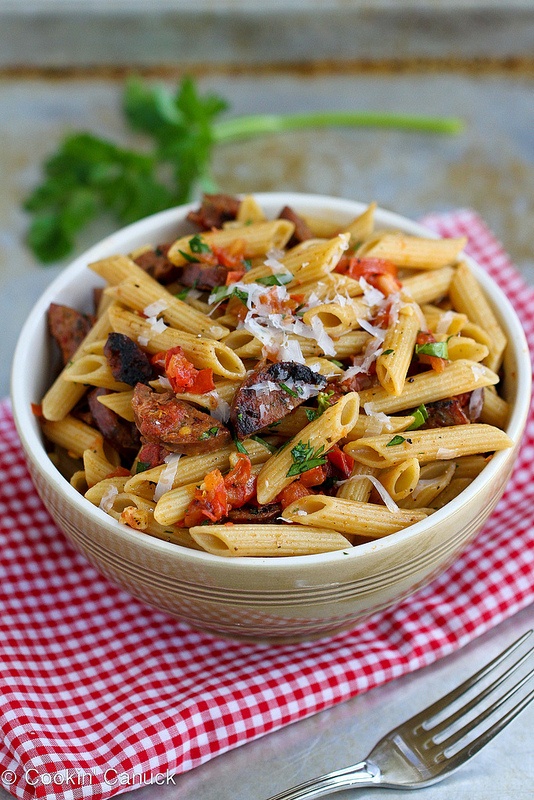 Chicken Sausage Pasta
Ingredients:
1 package chicken sausage
1 box pasta
1 package cherry tomatoes
1 bag baby spinach
1 onion
1 green bell pepper
1 red bell pepper
Olive oil, salt, pepper
This is something I learned to make by accident while on vacation visiting some friends. We were tired after a very long day out on the boat, and instead of going out we decided at the last minute we'd just stay in that night, relax and have some wine. That left us figuring out what to eat, and this is what we came up with. I can assure you that it is the most amazingly simple dish, but it's so full of flavor and amazingness that you cannot help but fall in love with it immediately.
The first thing you do is start your sausage. If you're unable to find chicken sausage, allow me to suggest sweet turkey sausage; it's just as good. You want to cook your links all the way through. You'll also want to start your pasta and cook it according to the instructions on the box. I love al dente pasta, so do it that way and love it. Now you'll cut your vegetables into small pieces and add them to a frying pan. Drizzle some olive oil on top, add some salt and pepper and start allow it to simmer. Do not add the spinach yet, though. You'll want to wait for the last minute that your veggies are simmering to add this. All you want the spinach to do is wilt just a bit.
When everything is finished cooking, slice your sausage into small pieces and mix everything together. Help yourself to this amazing dish and take in all the flavors. The pasta creates a nice base for the flavor of the veggies and the sausage together, and they marry well to create a mouthwatering dish that surprised even us when we created it. It's a staple in my house, and everyone that enjoys it with us loves it and asks for the recipe time and time again. You know a dish is a winner when it becomes a regular on the rotation list in everyone's household, too.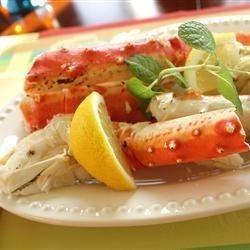 Garlic Butter Crab Legs
Ingredients:
2 lbs. snow crab legs
1 cup butter
2 lemons
1 clove fresh garlic
Salt and pepper
I know, I know; crab legs are not usually cheap. However, they do go on sale from time to time in my supermarket, and that means it's crab leg week for us. We will have this meal every single time it's on sale (because we have so many amazing meals to cook so regularly, why not plan them all around the sales?). This is a great recipe because it's probably the simplest one you'll ever make. Of course, you'll need some sides, but I'll get to that in a moment.
To make this particular dish, you'll do the simplest thing ever; you'll make the crab legs. You'll get a large pot of water, let it boil and add some Old Bay seasoning, cook your crab legs for about 5-7 minutes and then remove it from the heat. While you're letting those cook, go ahead and make your butter for dipping. What I like to do is melt the butter on the stove, add my finely chopped fresh garlic and cut two lemons so I can squeeze the juice in. I let it simmer for a few moments until it's nice, warm and flavorful. That's when I remove it from the heat and put it into a few small dipping bowls for each of us.
All you do now is crack your crab legs, dip the meat and love this meal.
Of course, crab legs no not make a full meal, which is why we like to go ahead and add in a few amazing sides. Here are two of our favorite side dishes that take very little time and make for great additions to any meal when you're looking for something delicious and amazing.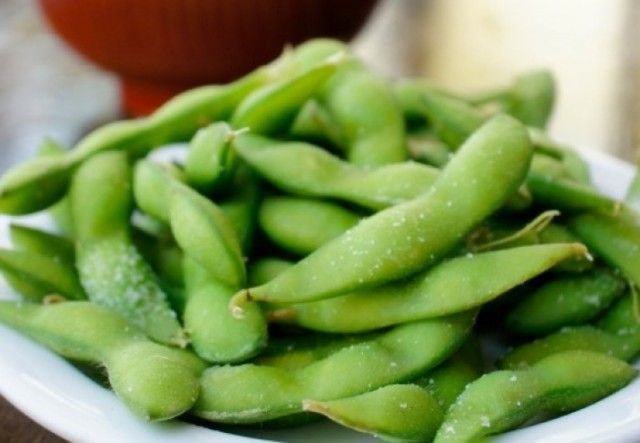 Edamame
1 bag whole pod edamame
½ cup panko bread crumbs
¼ cup fresh parmesan
¼ cup olive oil
1 clove fresh garlic
You'll need five minutes from start to finish to make this meal. Start with your edamame; pour it all into a Ziploc baggie, add a little drop of water to the bag and seal it 90%. Now put it into the microwave for 2 minutes. While you do that, peel your garlic and toss the whole clove into a ninja (really, if you do not have one of these, get one, stat) and add your olive oil. Start it and let it run around in there for a few moments. Pour it into a large frying pan and then add your now completed edamame. Let it simmer for a few minutes and then pour it into a large bowl. Add your bread crumbs and fresh parmesan to the bowl, mix it all up and then serve it. Eat it with your fingers. It's amazing, flavorful and makes a great healthy snack throughout the day or side with any dinner.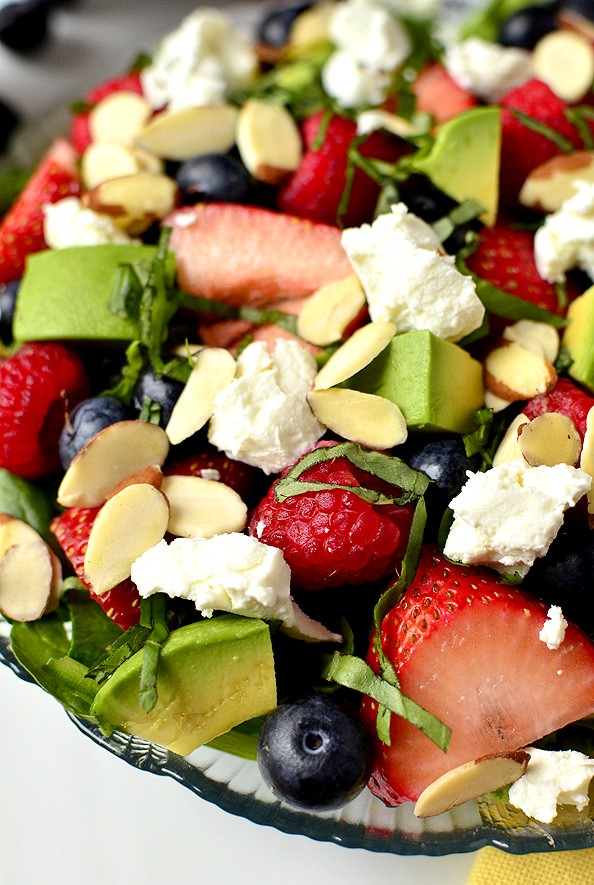 Salad
I love a great salad, and I love it even more when I make it myself so that I know it's healthy and made with fresh ingredients. If you're ever looking for a great salad to make for your family, let me recommend this one. It's simple. You'll just want to add a bag of arugula to a bowl. I like to add some chopped cucumber, some small almond slices, some raisins, some mandarin oranges and then a touch of feta to the mix. You can add some parmesan to it, too, if you love your cheese. Next, I just mix a little bit of extra virgin olive oil and some balsamic vinegar together and toss it into the mix and let it go. That's it; it's so simple and it takes not time at all. However, everyone loves this dish and it makes a great addition to any dinner.
Tips for Healthy, Quick, Cheap Cooking
Go meatless – You do not have to have meat to make a meal. I am married to a classic meat and potatoes man, but over the past few years he's become accustomed to eating meals that don't always include meat since you shouldn't eat it all the time to begin with. He's learned how to flavor his meals so that they taste amazing and are filling, and he doesn't even miss meat on nights we don't have it.
Fry Nothing – Just because you're cooking on the stove does not mean you have to fry things. We might fry a little bit of our chicken, but not all of it. We prefer to keep our food as natural as possible to keep it healthy and delicious, but you can add some serious flavor with other ingredients. Don't be afraid to try them.
Make it Your Own – Every single recipe you see here is something we've derived from another recipe. Whether it's a recipe I found on Pinterest and decided to make my own, or one that we found somewhere else and decided to adapt to our own lifestyle, we like to make it our own. The most important part of any meal is making it your own. The way that I like my food might not be the way that you like yours. Don't let that stop you from eating what's on my list; I say remove items, add items and cook things differently if that's what makes you happy. Make it your own, and that's what makes it a dish you love.
Don't be Afraid to Indulge – We love to eat healthy. We are at an age now where we feel our metabolisms will eventually begin to slow down and we have to take more care of our bodies that we did in the past. But, we love a glass of wine, a beer and dessert from time to time. Don't be afraid to pick one and add it to your meal if you're in the mood. On nights I'm cooking a meal, I like to have a glass of wine with me so that I can relax and enjoy. I sometimes try to talk myself out of it saying that I shouldn't have a glass with dinner when I know I'm going to have my nightly glass once the kids go to bed and we are relaxing but that makes me cranky. I don't do it often, so why not indulge when the mood strikes?
I highly recommend that you pair these meals with a really great wine; it enhances the flavor and makes the meal more flavorful. However, if dessert is your thing, go for it! Cooking meals that are cheap and easy is easy, but it's not fun unless you are enjoying yourself, so get to enjoying and let the evening feel free and delicious. This is your meal, so make it a good one and don't let your cravings go ignored for too long.
Photo by Getty Images