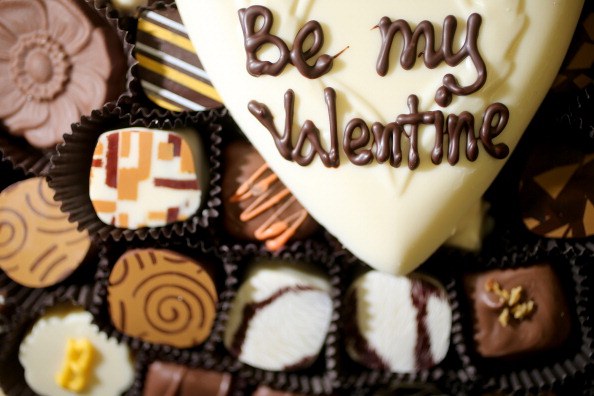 Valentine's Day is a sweet holiday for those with kids. It's nice for those who don't have kids and do have someone to celebrate with, but it's a holiday that takes on a certain new meaning once kids are involved and your life changes for the better. It's no longer a holiday that's all about you and what you want to do or where you want to go with your spouse, or how many flowers and chocolates he sends you (mine brings me chocolate all the time – don't be jealous). It's a day when you find yourself helping your kids make crafts for their classmates and when you find them making sweet cards and letters for mommy and daddy. It's such a sweet holiday that leaves you plenty of ideas when it comes to making something crafty and fun to give to your spouse with the kids. No longer about chocolates and flowers, this is a holiday about showing your kids how much you love them and letting them show you and your spouse how much they love you. And that's why we have some super creative, cute and fun crafts you can make with your kids this Valentine's Day to give to your spouse, their teachers, their friends or even to their grandparents (let's skip the homemade, home-decorated cookies. I've tried this too many times with my own kids and I just don't have it in me to hand out dirty finger booger cookies to the people we love…well, not all of them, anyway).
Handprint Hearts
All you need for this simple and adorable craft is a little bit of kid-friendly washable paint, some construction paper and some pretty markers. What you are going to do is make a sign that reads, "I Love You from the Top of My Heart to the Tips of my Toes." Sounds pretty simple, right? That's because it is simple. Instead of writing the words "heart" and "toes," however, you're going to use your children's hands and feet for this. Paint the palms of both your child's hands and have him or her put her left palm down with her fingers pointing slightly left. She will then put her right palm down on the paper over her left palm and point her fingers slightly right to form a heart shape with her hands. Then, where the toes portion goes, she will then put her painted feet on the paper using the same method to create a heart-looking footprint. It's a great gift for a parent, grandparent, aunt or uncle.
Sharpie Mugs
Who doesn't drink coffee? We forgive pregnant women because it's not healthy, but anyone else that does not consume coffee regularly is obviously, clearly and absolutely some sort of creature from another planet (do you see just how I can't function without coffee and therefore do not understand people who can do this?). All jokes aside, for the moment, kids can make some seriously cute crafts for their loved ones using a sharpie and a plain white coffee mug (think dollar store mugs, nothing fancy or over-the-top – because seriously, your kids are about to color all over them). Also – this is the kind of craft you REALLY need to be present for and REALLY on your A-game for since your kids are using sharpies and they're not known for their washable quality.
The premise of this project is fun. Everyone loves a coffee mug in which to enjoy a cup of Joe, but no one wants the same old boring mugs they see all over the stores, especially during sappy holidays. Instead, just let the kids go crazy drawing special love notes, pictures or whatever they find chic and abstract on the mugs. Your job is then to preheat your oven to 325 degrees and bake those colorful mugs for 30 minutes. Bam; your kids art work is forever emblazoned on personalized mugs.
Oh, and if you really know someone who does not consume coffee, go ahead and let your kids do this project with a plate or something else (also a Dollar Store find). Even if we don't trust this coffee-less person.
Homemade Cards
Here you go; simple, sweet and pretty much self-explanatory. It's my favorite kind of kids' craft. You don't need instructions or a list of things you need for this one. You can use whatever you want, however you want, and whenever you want. But what we love about this tried and true art project is the simplicity, creativity and complete and utter sweetness of the final product. Kids can be all kinds of things, but creative and touching top the list when it comes to personalized, homemade cards (here's a hint: If your littles cannot write on their own, translate for them on their cards). Also, store-bought cards are expensive to the point of ridiculous. I mean, at $5 or more per card, you could probably pay a year's tuition in a private university if you saved all that card money and always made your own (I'm think that's average for people who probably buy 5-6 cards a month for various holidays and birthdays, celebrations and life moments).
Food Art
Kids LOVE to play with their food (and let's be honest; so do we), and there is no time like the present to get down, dirty and playful with the things that we usually love to eat. Macaroni, sprinkles and anything else you can think of that sounds like ooey-gooey fun is going to make the perfect Valentine's gift. Cut out some construction paper hearts, get some glue – and maybe some newspaper if you happen to like your furniture – and get busy. May we recommend you join in the fun on this one? Calories don't count when you eat sweet treats while making art projects for Grandma and Grandpa with the sweetest little Valentine's you'll ever have. And really, enjoy it now; when they grow up, they are not going to want to be your Valentine unless you trade in the chocolates for electronics.
Photo by Joe Raedle/Getty Images