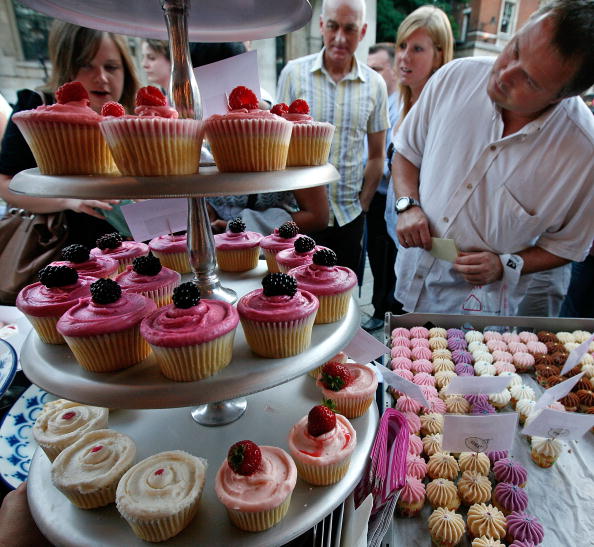 Cupcakes are the new "Cake" and that means cupcake stands are in high demand these days. Unfortunately, it seems like they're difficult to find in stores. When you can find them, it's difficult to find one that's priced reasonable. That's why we love the concept of DIY cupcake stands. It might sound intimidating at first, but it's actually a concept that has so many different variations and so many different possibilities. You can literally make a cupcake stand out of paper cups and wooded cake circles. It's that simple.
The concept here is creativity and functionality. You can create a cupcake stand that has so much going for it, and you can make them for anything. You aren't limited to using stands like this for just cupcakes, and you aren't limited on the materials you can use. What's so much fun about a project such as this is that you can go to your local craft store or thrift shop and find old pieces that are secondhand junk to someone else, but a potentially gorgeous project for you. You can paint the items you use, leave them as is, decorate them or stay simple and chic; it doesn't matter as long as you love the outcome.
We could go on for ages about all the different ways you can make a cupcake stand of your own, but we won't. What we will do, however, is share with you a few simple ideas that will help you come up with your own ideas for a cupcake stand. One size does not fit all when it comes to style and functionality, so it's imperative that you take a look, see what you want and what you need and go from there. Of course, sometimes the purpose is just to find one you can make with things you have sitting around the house!
Simple and Efficient
This cupcake stand is one you can make at home, without any materials except a hot glue gun, a couple of paper cups and a couple of cardboard cake rounds in different sizes. The video will teach you in under three minutes exactly how to make this stand, but we'll sum it up for you. What you need to do is take your largest cake round and two paper cups. Using a hot glue gun, affix two cups to the center of the cake round. Then place a smaller cake round on top of those cups after you spin a little hot glue around the edges of the two cups. Repeat on top of the second cake round with one cup and an even smaller cake round and you're left with a three-tier cake stand that's completely functional.
To dress it up a bit – as is much needed – you can do some decorating. You can put some faux flowers around the cups to create a backdrop for your cupcakes. You can also put baby toys, wedding accessories or anything you want there to go with the theme of the party you're throwing. It's a quick cake stand that won't take but three minutes to make, so it's often the best one to consider.
The Pretty Cake Stand
This one is a bit more involved, and a bit more elaborate, but it's still pretty simple. It takes some additional materials, but we're going to let you watch the video to learn how to make this particular cake stand. What we are going to discuss is how great this cake stand is. Essentially, it's glass or porcelain plates that are attached to vases and/or candle holders. It makes for a cake stand that's much more elegant (and breakable, so let's be careful with this one, shall we?) and much more sophisticated.
However, it's also fun and fabulous. You can do whatever you want with this cake stand since it's pretty much a free for all in terms of DIY cupcake stands. We encourage you to think outside the box here. When we picture this cake stand in our minds, we see a very Alice in Wonderland theme. We love colorful plates with gorgeous designs, candleholders or vases that are bright and bold and beautiful, and a lot of abstract design. In this case, the more creative; the better. There is no limit to what you can do to make this kind of cake stand as amazing as can be, and it's also something that is probably going to become a hobby. Hello Etsy shop!
Jewelry Cupcake Stand
And just for fun, we thought we might add this super adorable 'cupcake' stand in the mix. It's not a traditional DIY cupcake stand since it's not meant for cupcakes, but if you have already decided you are on a crafting mission, you might want to stop here and go for it. This is a cupcake stand that was designed using bowls, vases, candleholders and plates, spray paint and lace and beads. The instructions are very thorough and detailed, so we'll ignore that.
This stand is designed to hold your jewelry. However, you can use it for anything. You can use this stand to hold your makeup in the bathroom, to hold your hair accessories, or even to house the accessories of your little girl in her pretty princess bedroom. It's also a great way to add a little bit of interest and décor to any room. You can make it into a cupcake stand, of course, but we love it as a desk accessory. Put it on the desk and store your pens and other small items. Leave it on the table by the front door and let people put their keys on it. Place it on the bedroom night stand and put phones, mail and other reminders on it. There is literally no limit to all that you can do with this kind of cupcake stand, and we encourage you to use your creativity to make it work in your home.
Photo by Cate Gillon/Getty Images