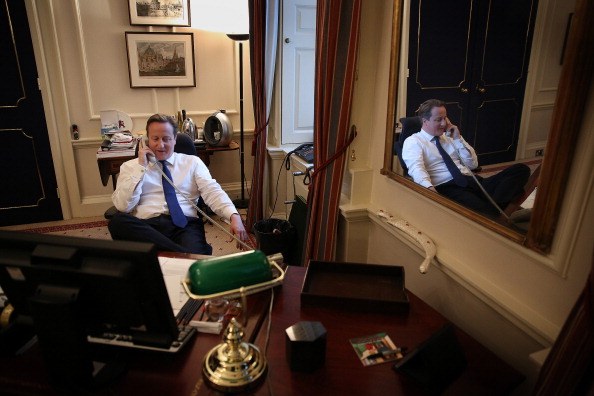 Having a home office is something like a dream come true for those who work from home, even if you only work from home part-time. There is something so uniquely special about a designated space designed to make your workspace more organized, your work day more productive and your house less cluttered. When our twins were born and I was left without a work space (four kids will do that to you) in our house, I was more motivated than ever to find a new home with an office and enough bedrooms to accommodate our newly huge family of 6. It didn't seem possible, but we managed to somehow (God must have figured if we were going to have four kids, we might as well catch a break and find our dream house in foreclosure and beyond affordable) find exactly what we needed. All the kids now have their own rooms and I have an office connected to the master suite (with a private entrance to boot).
Dream come true, right? Well, sure. But now you have to furnish said office and do it in a way that's cost-effective and efficient. This means desk, chair, décor and much more because I ended up with a huge office, and I knew I needed it to be exactly what I wanted or I wouldn't want to be in there (or I'd be doing nothing but mentally redecorating when I was in here). But after spending tens of thousands of dollars on a down payment, buying new furniture to furnish a house that is literally (and I say that literally) 3 times the size of our old house, I didn't want to spend even more to furnish this large office (let's try to remember we birthed twins and had to do things like buy much larger vehicles and two of every single thing ever in the existence of humanity in the same year, too).
So what's a girl to do? Well, first you have to ask yourself a few questions and then you have to start decorating. Now that I'm an old (young, really) pro at decorating a home office on a budget, I'll share my knowledge with you.
Ask Yourself some Questions
How big is your office? What do you do for a living? How much time are you in there and at what point during the day? Do you have windows and/or a door? What are your tastes? What do you need to make your workspace efficient and effective and what is your budget?
For me, my office is very large. I have a large picture window and an exterior door, a pocket door into the master and a large and beautiful entrance into the foyer of my home. I knew I wanted it light and bright, and that it wanted it simple and very streamlined. I write; so storage is not something I need. My files are on my computer, and I don't need many office supplies. When I'm in here, I'm away from my kids who are playing in the house with their sitter or whomever else is home (or maybe they are napping or at school). What this means for me is that I'm taking time out of my life and I need to be somewhere I feel comfortable and motivated. That's when I knew what I wanted.
Take a Look at Pinterest
One of the best things to do before decorating that home office of yours is look through home office spaces on Pinterest for motivation. Not only might you find a design or concept you love and can recreate if you like, you can also click on links and actually see, in many cases, where someone purchased the décor and furniture and how much they paid. You can sometimes find the name of the items and if the price is not within your budget, you can look it up online with the phrase "copy" or "Inexpensive" and find something very similar for nothing.
Start Shopping
Now that you know what you want and what you can afford, you can go out and start shopping. My favorite places for decorating a home office include Target (which is where I bought my very simple white desk that looks like an old writing table), Home Goods (I bought my gorgeous armless chair with mint, tangerine, sage, and cream chevron stripes here), Pottery Barn (purchased a decorative table for flowers here), Walmart (ordered a tangerine sofa to place under the window here) and TJ Maxx (bought lots of white framed prints and either filled them with gold-lettered quotes and motivational sayings printed from Etsy or bought them already framing gold-foiled quotes). Fresh flowers on my desk always make me feel good, too.
Consider IRS Requirements
The good news about a home office is that you can deduct it on your personal income taxes (and your business income taxes) but you have to know the limits and rules, and the regulations. The IRS regulations for your home office are listed here and can help you determine how you can further make your space more effective (by deducting it) and cost-efficient (by recouping a bit of cash for having a home office on your income taxes).
Use the Office
It seems like a simple and very common sense deal, but it's not. Some people have a home office and never use it. But if you want to have a productive work-from-home experience, you should use your office. It will pay for itself and be worth so much more than you put into it as well as help you become more productive than ever if you just use it. Not only is it designed to make your work simpler and more efficient, but to keep you from being distracted by other things in the house. Keep the television out of here, turn on some soft music and shut the door. Don't leave the office if you can help it, which means perhaps you should keep a small fridge in here with your lunch, your beverages and your snacks. This will help prevent you from becoming distracted by the dishes, the laundry and everything else at home.
Photo by Peter Macdiarmid- WPA Pool/Getty Images