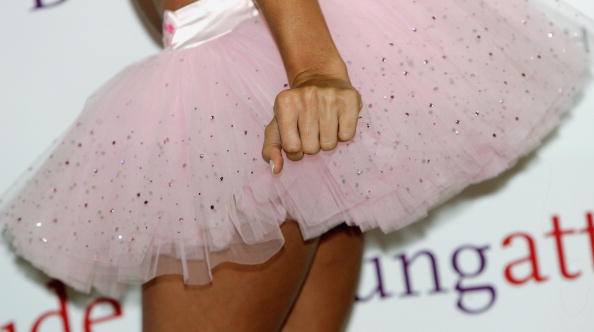 Every little girl with an adorable tulle tutu is beyond sweet, and that's why moms are paying big bucks for someone else to make their daughter's these adorable little costumes. They're perfect for parties, for photos and for Halloween, and they're simple to make. You might not think you can make them on your own, but you can. And you'll save a lot of money in the process.
Measure Your Little Girl
You'll want to measure her waist where her skirt will sit, and then remove 2 to 3 inches from the number you receive. Why? Because you will have an elastic band on your tutu and it stretches. If you make it exactly her size, it will fall off of her. It needs room for the elastic to expand.
Buy Your Supplies
You can go to the craft store, or you can go to the fabric aisle at Walmart. It's really up to you and it makes no difference. You'll want to pick up some elastic and some tulle. If you're just making one skirt, you will want to make it with six-inch tulle. It's a perfect size that will not require any cutting or any additional work.
You'll want to also pick up a needle and some thread since you will have to sew together the ends of your elastic to make it an actual skirt.
Get Started
Cut your elastic to the correct size and sew the ends together.  Make sure to do this well, because you don't want your elastic to pull apart. Now, take your tulle and begin tying it to your elastic. Fold your tulle in half and slide the piece where the tulle comes together in the middle behind the elastic band (which should be around something like a bowl or other sizeable item) and slip the ends of the tulle through the 'loop' you make. Pull it tight. Do this all the way around the tutu as close together as possible until you are done. If you want to adjust the length, you'll need only to cut the tulle when you finish.
(Photo by Gareth Cattermole/Getty Images)