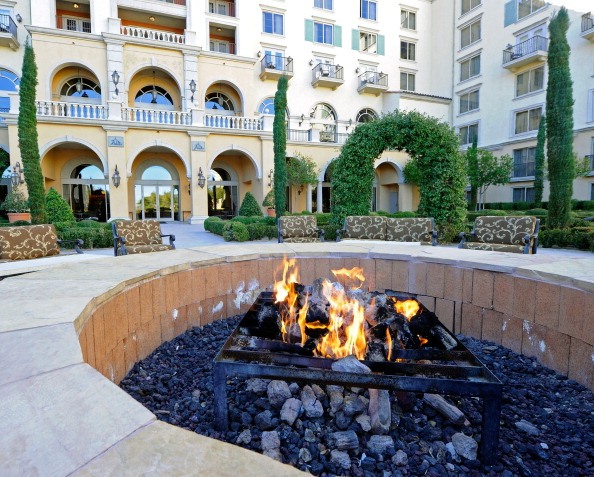 Now that it's cold outside and it probably will be in most places for a few months, it's time to consider how you're going to stay warm. Part of the fun this time of year is taking to the great outdoors, even if that means just heading into your back yard. You can stay warm with a fire, but how do you keep it contained? You don't want to be the people who have a fire on the middle of the lawn, roasting marshmallows and making s'mores, do you? No, so you should build your own fire pit.
It sounds intimidating, but it's not. And the best part is that this particular DIY fire pit doesn't cost much, it doesn't take long, and it's going to impress everyone who gets the chance to see it. It's a great fire pit that anyone can make. But just in case we've intimidated you a bit, we've included a simple instructional video that will walk you through the steps of making your own DIY fire pit, as well as a few tips to help make yours a little nicer.
Landscaping
When people make their own fire pits, they sometimes forget that they need to do a little landscaping around it. This means putting down something along the outside of the pit that will make it a bit more appealing. Mulch often sounds good, but you don't want to put it that close to your fire. Instead, try some river rock. It will make for a nice look and it won't catch on fire. It's very elegant when surrounding the stone of the fire pit.
Seating
You need some chairs around your fire pit, and you can go anyway you want with this idea. One way to do it is to use some classic Adirondack chairs. However, if you choose to go a route that's a little less expensive, you can go with hale bales. People love this look, as it's informal and fun. Just be sure to set them back far enough from the fire that they don't accidentally light on fire.
Accessories
How about some accessories around your fire pit? We love some low tables on which you and your family and your guests can place your drinks, your plates and anything else you have with you. Where are you supposed to put those marshmallows and chocolate when it comes to making s'mores if you haven't a place by the fire to place them?
Photo by Ethan Miller/Getty Images for Ravella