Have you been bit by the organizing bug? If so you may have noticed how expensive it can be wandering the aisles of products created just to corral your clutter. There is a better way. With a quick glance around your home it's easy to create custom storage and organizing containers without breaking the bank.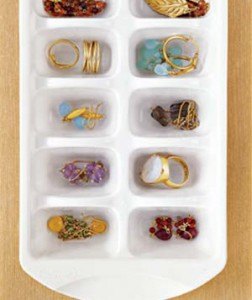 Ice Cube Trays:
Organize your jewelry with an ice cube tray. Not only will this prevent lost earrings and tangled necklaces but by stacking multiple trays you can create your own multi-tiered jewelry box.
Photo Source: RealSimple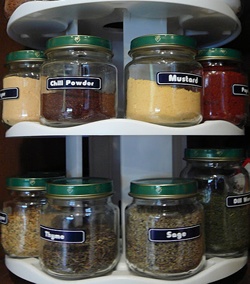 Baby Food Jars.  Why buy an expensive matching jar set for your spices when these versatile jars fit the bill. Baby food jars can also be used for sewing notions, leftover paint and cupcake decorating supplies.
Photo Source: Jolly Mom
Cereal Boxes: Turn your empty cereal boxes into beautiful custom magazine holders.  With a little scrapbook paper, scissors and Modge Podge you too can have magazine holders to fit any decor.
Photo Source: The Wicker House
Tin Cans: Empty cans from soup, fruit, vegetables or tuna can be re-purposed into a matching desk set.  Add a little fabric or scrapbook paper along with ribbon for the edging to customize.  They can also be used to hold crafting or potting supplies.
Photo Source: I Heart Organizing
Water Boxes: Buy canned goods or beverages by the flat? If so the empty flats can be used as storage boxes in the pantry, linen closet, or even on display. Cover them with fabric and attach a pipe strap for the handle.
Photo Source: Sew Many Ways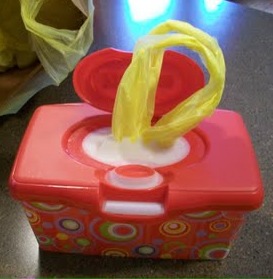 Diaper Wipe Container: Every parent knows that you'll end up with tons of empty baby wipe boxes.  Why not turn them into a plastic bag dispenser, crayon storage or use them as a first aid kit for the car.
Now it's your turn. What items have you found around the house to use as storage or organization containers?
Photo Source: A Simple Heart for Home 
Feature Image Photo: I Heart Organizing