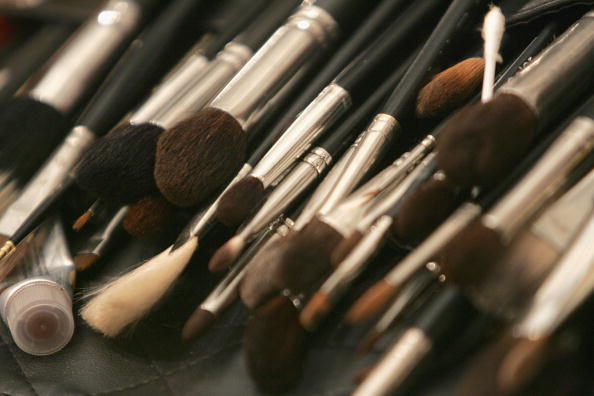 Men might not understand it, but women will; a makeup vanity is one of the most useful and important things a woman can have. Unfortunately, not all women have built in vanities in their bathrooms and not all women have the excess funds to go out and purchase a custom makeup vanity. However, that doesn't mean you have to live without a vanity. In three simple steps, you can make a DIY makeup vanity that will look great in your home, and cause your friends to turn just a shade green with envy.
All you need is a few hours time once you have everything you need on your supply list. You can pick up everything on this list at a garage sale, yard sale, thrift store or anywhere in between for next to nothing, which is part of the beauty of this DIY table. Once you have it all, it's time to get a little dirty. Don't worry, though; the results are worth it in the end.
Find a Table
You can use any narrow table for this. An old sofa table that's longer than it is wide, an old desk, an old TV stand table; it doesn't matter. Go to a thrift store, go to a garage sale, go to your mom's house and go through her attic; go anywhere you think you can find an old table and get it. You'll be able to get one for next to nothing at any of these places. And don't worry if it's kind of ugly. You're going to fix that.
Fix the Table
The next step is to take your new table home and fix it. Depending on its current color and the color you want it to become, you're going to have to find some stain or some paint. You're also going to need paintbrushes and some sandpaper to sand down the table really well before you paint it or stain it. The paint and stain have instructions of their own, and they're all a little different so we're leaving this step up to you and your paint/stain instructions. Let it dry and then it's time for the fun part.
Accessories
Now that you've finished your table as you see appropriate, it's time to accessories your new table. The first step is to find a lovely mirror to either lean up against a wall on the back of your new vanity or to hang on the wall behind it. Once that's in place, you're going to want a lamp for some good lighting. If your table has drawers, you have places for your makeup and accessories. If it doesn't, you'll want to find decorative boxes for small prices (think Hobby Lobby, TJ Maxx) and use those to carry your supplies. The final step is finding a gorgeous chair. This is another thrift store/yard sale find. Pick it up for nothing and recover it, and you have a brand new DIY vanity table with a custom chair.
Photo by Scott Gries/Getty Images