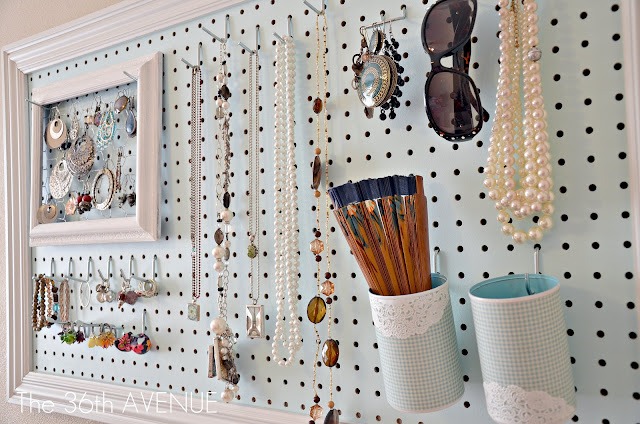 Finding a gorgeous jewelry box is not always easy. Some are too big, some are too small and some people simply do not like the concept of a jewelry box. When that's the case, what's a woman to do when she has to store her favorite jewelry somewhere? The answer is simple; you can create your own jewelry holder by using just a few simple household products and some inexpensive hardware. Our favorite DIY jewelry holder is so cute that you'll want to make one for everyone this holiday season.
Materials
All you need is a 2×4 piece of wood. You can pick this up at the local home improvement store in just a few seconds time. The price is just a few dollars and you'll have almost all the materials you'll need for this project simply by picking this up. Well, not quite; but you'll have the biggest piece of this project.
You'll also need some screws, some strong wire, a drill and some pulls, such as the kind you use on the kitchen cabinets or bathroom cabinets. And that, my friends, is literally all you need to make this simple jewelry holder. You can, however, buy some paint if you want to paint your 2×4; but you don't have to.
Construction
The fun part here is finding the fun pulls, which you can find at thrift stores and home improvement stores. Our advice is to think outside the box and buy ones that are pretty and fun, and not just ones that are uniform. Fun colors, fun shapes and fun designs make this a project that's seriously cute and so much fun to do.
Start by painting your board if you want to. Then, simply put the drawer pulls on the board wherever you see fit. You'll do this by following the instructions that come with each, but all that usually requires is drilling the screws that are attached to the pulls into the board and affixing them.
Hanging it Up
The final step is to take that wire and attach it to two screws on the back side of your board. This will let you hang the jewelry holder on the wall with a heavy nail or a screw and anchor. All you do now is hang your bracelets, watches and necklaces from each pull and enjoy. It'll look great in a dressing room or closet.
Photos by beautyandbedlam.com