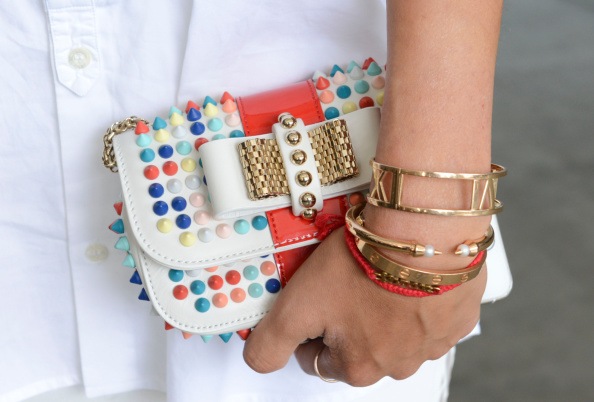 You do have the talent, and you can find the time. There, you can't even argue with what I'm about to suggest to you anymore because I've just countered your arguments and made them invalid. Well, most of them. When it comes to craftiness and DIY stuff, there are some women who are so talented and so creative that they make the rest of us feel like failures. Then there are those women who don't feel they have a creative bone in their bodies. I'm here to tell you that even if you aren't a DIY kind of woman right now, you can be. You might not feel creative, but you can be creative.
In fact, you're probably more creative than you dare give yourself credit. We aren't suggesting that you start to DIY when it comes to making sunscreen or raising chickens for their eggs (but we're also not stopping you). We're just suggesting that you take the time to consider making your own jewelry. DIY bracelets, necklaces and even rings can be fun, and really great to make on your own. If you're not sold on the concept of getting creative, let us give you a few reasons why it will benefit you to DIY, especially this time of year.
Your reasons for wanting to learn to make jewelry of your own might be on this list, or they might be in your head; it really doesn't matter. What matters is that you're considering the possibility, and we're here to push you in the right direction. Getting creative is never a waste of time. It's something that can benefit you in ways you might never have imagined, and it's possible that you just don't know how much your talent can benefit you at the moment.
It's Cost Efficient
Making your own jewelry is so cost-efficient. In a world where most of us women prefer our costume jewels to our real ones, it only makes sense we'd want to have as much of it as we can. A necklace and bracelet to go with every ensemble in our closet is a woman's dream come true, and you can make it a reality when you DIY. Making DIY necklaces and bracelets will save you a lot of money, and it will set you apart from the crowd. Anyone can go into Nordstrom and pick up the latest costume necklace on the shelf, but no one will have the one you have since you made it yourself.
Thoughtful Gifts
Learning how to create DIY jewelry is a great way to give very thoughtful and unique gifts. Again, you're never going to worry that the items you package up and gift to others will be duplicates of items they already have. Aside from that, when you take the time to create a piece of jewelry for someone special in your life, they're aware of that. When they look at your gift, they will see more than just a lovely piece of jewelry. They will see the time, thought and effort you put into their gift. Anyone can run to the store and pick up a gift card or gift without thinking twice about it. Few people have the ability to make something truly unique and put that much thought into something very special. It's a touching gift.
Style
Ever wanted to have something so specific but you couldn't find it anywhere? It happens all the time, especially when it comes to jewelry. You know what you want to go with that gorgeous dress you bought for that upcoming wedding, but you cannot find a bracelet to match. When you create a DIY bracelet, you can make it anyway you want. You can use any colors, designs, accessories and textures that make you happy. There will never again be any need to search endlessly for items that simply aren't in existence. You'll have them right there with you at all times, you'll just have to find the time to make it.
Future Endeavors
You begin your crafty traditions with a DIY bracelet or necklace, and before you know it you're making sweet headbands for your nieces and friend's daughters. Then you're making holiday wreaths to put on the front door. Then you're making adorable prints to hang up in the bathroom. There is literally no end to the amount of creativity a woman can harness once she realizes her capabilities and her endless limits. All it takes is a few compliments on a gorgeous DIY bracelet and you're suddenly the queen of crafts. Your fun hobby might turn into a shop on Etsy, which could turn into a boutique in town. The possibilities are literally endless.
Relaxing
There's something to be said about finding something you enjoy and sticking with it. For some of us, it's exercise or reading. For others, it's crafts. You can find something you're really good at and make it your escape from the stress of the day. DIY projects such as bracelets and necklaces, rings and earrings, and anything else your creative mind can come up with can help you relax, unwind and decrease your stress levels after a long day. It's a pretty win-win situation for everyone, and knowing that you can unwind while creating something useful and gorgeous doesn't hurt either.
Earning Potential
This one almost goes hand in hand with future endeavors, but it deserves a few sentences of its own. When you're good at what you do, and you enjoy doing it, you can create a business. This is a way for you to earn a little extra money you can use anywhere in your life. You can put it toward your child's education. You can put it to that wedding you're planning. You can put it to use fixing up your new home or saving for a home or paying off debts you might have accumulated in the past. You can do anything you want with it, even if you sell only a few of your DIY bracelets and necklaces at a time. The future is limitless.
Photo by Vivien Killilea/Getty Images