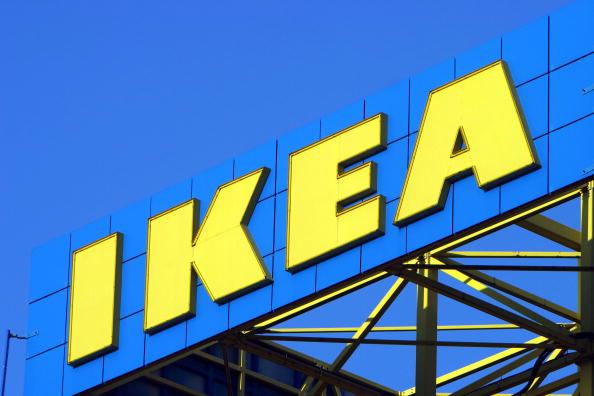 IKEA is really cool. Even when you grow up, become an adult and actually make good money, there is so much fun to be had shopping at IKEA. I mean, who said you can't get a bargain on home goods just because you don't have to? We love IKEA in our house, and it's not just because it's loud and there's so much entertainment for our kids when we shop. We love it because we can find anything we need and we don't feel bad when we find furniture we want to put outside on one of our porches or decks and it's destroyed by the weather in under a year. We just replace it – after learning a valuable lesson. But there are so many cool things at this amazing store that we can't figure out, but we still want to buy. And we can't always pass up the opportunity to buy something we might not love completely just because it's so affordable. So what are you to do when you are shopping here and you find something you like, but don't love? Well, you figure out if this particular piece can be transformed, changed or redone to create something you do like.
IKEA is great for those who want to shop for home décor on a budget. The downfall is the inexpensive look that some of these items come with. You want to have nice things, but if you don't have the budget for them, you will want to find a few ways to make them look more expensive and more amazing, and we have just the right ideas for you to use when you try. Some things look a little bit like the inexpensive items that they are, and you can make sure that they are transformed into something that looks a bit more elegant and sophisticated with very little effort. We have a few tricks for making your everyday IKEA purchases brand new and exciting in next to no time at all.
Turn Boring Furniture Into Kids Furniture
With some adhesive décor and tape, you can make anything look more fun and child-like. It's great for tables and desks and chairs that are designed for use in the kids' rooms or play areas. They're also great for outdoor items your kids will use. It's fun and bright, and that's what matters. Think fun and functional and then allow your kids to help you choose the way that they want their furniture decorated so that you make sure they like what's going into their rooms.
Add Edges
A simple coffee table can be transformed into something that looks a lot more expensive and elegant with some really nice silver edges. Just find the edges somewhere gorgeous and add them to the tables for a custom look that appears more expensive than it really was. It's really simple and it can make a huge impact on the rest of your house. It is also a very inexpensive fix that you can do at anytime.
Modge Podge Tables
Do you have a kid that needs a desk but boring white isn't working for you? Why not go for some modge podge and add photos, maps or anything else your kids might love? It'll be fun and simple, and it will make a huge difference in this piece.
Add Washi Tape
You can add washi tape to anything to make it look more colorful and gorgeous. We love the concept and it's especially fun with kids' furniture and outdoor items. You'll love the concept since it's so cheap and so simple to make happen.
Change Up Drawers
You can buy just about any kind of storage unit available at IKEA, but you're getting something white and boring. So why not put some metallic paper on the front of the drawers to make them more gorgeous and exciting? It's simple and takes no time at all. It really dresses it up. Since dressers are notoriously boring as it is, this is a great idea to dress them up a bit and make them even more fun.
Customize a Bench
Who says benches have to be boring? You can attach some colorful planks to the top to make them so much more fun and it won't take much time or a big budget. This is a great idea for a kids' room or fun dining bench. With this, too, you can use your imagination and make things as colorful or elegant as you please depending on where you will use the bench and how it functions.
Use Lamp Shades as Planters
There are so many expensive planters in the world, but so many inexpensive lamp shades at IKEA. A great idea I saw on Pinterest (go figure) is to turn a pretty shade upside down and place a boring planter inside of it to make it look like a fun and new and very exciting planter is actually holding your plant in there. It's gorgeous and effective, and it's something that's going to make your entire garden or porch look so much more amazing.
New Knobs
One of the simplest ways to transform a dresser or new kitchen is with new knobs. We love bright and colorful knobs for kids and something beautiful and elegant for the rest of the house. Big differences are made by making little changes. One of the most fun ways to do this is with mismatched knobs you find in random places, such as yard sales and consignment shops. Fun and funky knobs make for a very exciting addition to any piece of furniture.
Make Colorful Step Stools
There are some very cool – but very plain – white step stools at IKEA. You can buy these and make them a little more exciting with wallpaper. We love the idea of using brightly colored paper to make these stools more fun if you're planning on putting them in a child's bathroom so that your kids have a fun and attractive place to stand when brushing their teeth.
Photo by Michel Porro/Getty Images