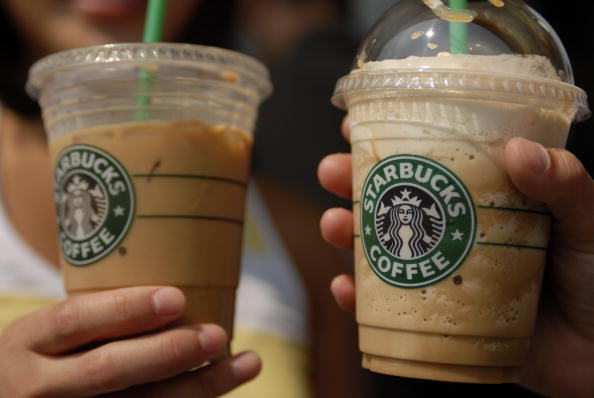 I'll have a grande salted caramel mocha frappucino (when it's hot) or a venti blonde roast with cream (when it's cold – which is never in Florida – so when it's early morning); thanks Starbucks. It's a weakness. I brew the Bright Sky Blend and home every morning in my trusty Keurig, and I make it my life's mission to drink as much Starbucks as humanly possible. It is the only coffee in my life. Unless I have no choice and have to go to Dunkin Donuts, in which case I mumble and complain about the fact that their coffee never tastes the same as it did the last time because their 'baristas' seem to be as consistent as my 20-month-old twins' behavior.
Red cups and holiday anger aside, there is nothing I love more than Starbucks. You can all be as offended as you want that Starbucks decided to go the simplistic route with a plain red cup this year and only included holiday decorations on their windows, walls, cookies and every single other thing in and around their locations, but I'm not mad. I can celebrate Christmas without a snowflake on my Christmas cup. I mean, I'm drinking my water out of my Yeti tumbler right now that still has my summer Lilly Pulitzer monogram on it (Gasp! Shock! Horrors!) since I forgot to order a more Christmas-y one this year.
Welcome to the naughty list.
Here is what's awesome about Starbucks, aside from the fact that they have the best coffee, the best service (if not the worst name spellers) and the cutest red cups; they are offering some awesome deals right now. For one, you can go into any Starbucks today through Sunday and buy one holiday drink and get the second one free (in your red cup) between 2-5 pm. If you are a Starbucks Rewards member, you can even do it on Monday. Now, let's add to that the fact that you can also head straight to Groupon right this very second and purchase a $15 Starbucks gift card for only $10. Yes, that's right; I said it. You can spend $10 and get $15 worth of Starbucks right this second thanks to Groupon.
Add that to the BOGO deal this weekend and you're spending $5 to get $10 worth of coffee and you still have $10 left on your card even though you only spent $10 on it in the first place. Now, I'm no mathematician, but that sounds like pretty decent savings (Right? Can someone with some math skills handle that one for me, please and thank you?). You need to hurry, though, since this is a deal that is not being offered for long; and it's one that people are snatching up left and right.
Kind of makes you wonder just how many people are really that offended by the lack of snowmen or gingerbread cookies on their plain red cups the way these gift cards are selling and judging by the length of the line at my local Starbucks yesterday on a particularly hot 95 degree day in Florida.
Photo by Getty Images