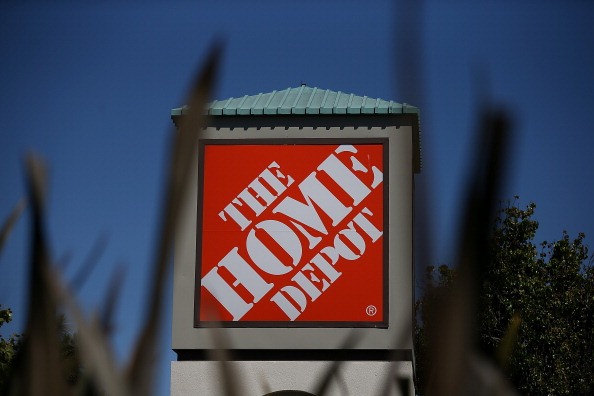 Home renovation, upgrading or building is enough of a headache without adding in the price of items you need for said project, and without adding in the "Home Depot vs. Lowes" debate. Here's the honest low down on this debate; some people swear by Home Depot and some people swear by Lowes. You probably can't change most people's minds. They have their opinions. They have their feelings, and they have their past experiences to rely on when it comes to helping them make the decision as to where they want to shop for their home improvement needs.
And then there are people like my family; Home Depot, Lowes; whatever. Take me to whichever one is closer and I'm happy. There's no loyalty here. I like them both, some people like them both. Some people could care less and feel that a toilet bowl lid is a toilet bowl lid and they'll buy it wherever is most convenient, faster and less out of the way on the way home from the office or school drop off. It's seriously that simple for some of us. And then there are the diehard money savers who want to shop one place and save the most money – and we get that. Saving money is awesome, especially when you realize that someplace like the Home Depot does offer coupons and that you can save money here.
We have some advice from Home Depot insiders that will shock you, and it will provide you with big time savings. It's not all coupons, but it's enough advice to use at the Home Depot to at least provide you with big discounts on your next purchase.
Price Matching
See an item at Lowes that is X amount of money and head to Home Depot because it's closer, or you're loyal, and see it for more than X amount of money? Ask the associate to match the price and then show them the Lowes price. If it's the exact same model (not just the same product; it has to be identical in all manners, including brand), the associate will absolutely price match that item for you. Home Depot is happy to accept Lowes prices, even if it means accepting a Lowes coupon.
But wait; don't stop there. Did you know that Home Depot not only price matches, they guarantee to beat the prices of their competitors by 10 percent? That's right, home improvement friends, you can go into Home Depot with a Lowes coupon (or other home improvement store coupon) and ask them not only to price match, but to then take an additional 10% off the price to make this true. And guess what? It works.
Ask for It
Here's another great piece of advice for Home Depot shoppers; you don't need coupons. You just need to ask for a discount. Chances are good that you will get that discount. Here's the deal; regular floor associates are given the power to provide shoppers with up to $50 off the price of an item (but no, you're not getting that $60 lamp for $10, but you can get a discount if you ask) without the assistance of a superior. This means you can absolutely go ahead and ask for that $50 discount on that $500 dishwasher and probably get it. It might take some haggling, and maybe even the threat of going to Lowes to buy the item instead, but you'll get the discount.
Supervisors can take up to $100 off an item without permission, assistant store managers can give you a $500 discount without asking for approval and managers can go up to $1000 without approval. Of course, you're going to need to make a mighty big purchase to get this kind of discount, but if you're doing an entire kitchen remodel and spending $20,000 in the store, there's no reason you can't ask for that $1000 discount and get either all of it or a big chunk of it from the store manager. The idea is to keep you happy and keep you coming back with your pocketbook to spend even more money.
The trick here is not to be afraid to ask for it. The honest truth is that most people don't ask for discounts. Some people feel silly or bad for asking for a discount when shopping for home improvement products, but they shouldn't. Home Depot employees are prepared for this and willing to work with you. They understand the expense of remodeling and upgrading and renovating, and they are willing to offer you a discount because they know that it's the best way to get you back in the store to spend even more money on things you need to complete your home improvement projects. Just ask for it; the worst thing that can happen is that they say no – but they won't.
Check for Coupons Online
This is much simpler solution to saving money at Home Depot; check online for Home Depot coupons. Just enter the phrase into a search engine online and do what you need to do to make it happen. You can print them, use codes and get discounts that are available online to save you money on your next purchase.
Can't find a coupon that works for you? Look for one from Lowes. Home Depot does accept Lowes coupons so that you can save money there and not have to go to Lowes for your home improvement needs. It's all about keeping customers happy and keeping them in the store. Just present them to a clerk when checking out, and ask for a manager if the clerk gives you a hard time about using the coupons. Again, this might resort to telling the clerk or manager that you understand their policy, and while you hate to leave, the discount is just too much to lose out on and that you'll have to go to Lowes for this one. It's a bit deceptive, but it usually works. Home Depot employees need your business, so they're job is to make you happy.
Photo by Justin Sullivan/Getty Images